2005 - 2006 Events
We were all sad to see the 2005 – 2006 season come to an end. What a season! If you missed any of the meetings or events, take a look down this page. We had inspiring speakers, fun work days, and saw countless colorful quilts.
The 2006 – 2007 promises to be a terrific one. We'll be celebrating our guild's 25th anniversary. We hope you'll like what you see in these archives, and will plan to join us next season. Have a good summer!

---
June 2006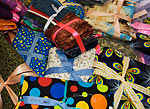 The final meeting of the year was very colorful, and was full of activities. Before and after the general meeting, members were busy with the Member's Flea Market. Tables were piled high with beautiful hand made items, and patterns, and — of course! — fabric! The tables at our meetings are always busy with many projects, but this month was extra special, as members wheeled in more items than normal. Many of us found some great bargains, and the sellers went home with a some extra money. The guild received a portion of the proceeds — so everyone was happy.
---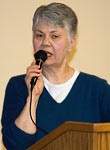 Speaker Joy Saville treated us to her approach to the creative process. We saw a slide show of her work, and she explained how she arrived at the final design for each piece. She encouraged us all to view each project as a series of steps beginning with the most important: Identify the problem.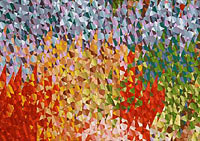 Is there a concept to develop? Or does the work require a new technique? Or perhaps the work is to express a response or a theme.
Once the problem is identified, then the next steps are: Preparation (research & evaluation); Incubation (drop the project and concentrate on something else); Illumination or Insight (wait for the "ah-ha!" to arrive); Evaluation (decide if your insight is worth pursuing); Resolution/Refinement. Joy is a captivating speaker and we were all incredibly attentive as she talked about creativity, talent, inspiration and limits — all topics that we quilters deal with daily.
If you ever get a chance to see some of Joy's work in person — you don't want to miss it! Joy's website is currently under construction, but here's a link so you can follow the progress: www.JoySaville.com.
---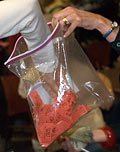 In the late afternoon we had some special drawings and some very happy winners.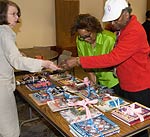 Congratulations go to Veronique Milliez for success in the 50/50 raffle, and to Andrea Tebesceff for winning the Early Member Renewal drawing. Andrea received a gift certificate to The City Quilter. And there were about 20 lucky winners of the general raffle drawing. There were some great prizes this month.
And last — but certainly not least! — we were treated to some terrific Show & Tell items. Be sure to visit the June Show & Tell page to see some pictures.
---
May 2006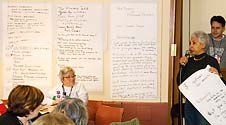 The May meeting was certainly one of our most unique meetings to date. We spent the day focusing on the future of the guild. After the business meeting, we gathered in small groups and swapped suggestions on the topic of how to make our guild better. A representative from each table presented the table's thoughts, and the many suggestions were posted on the wall. Thanks to Program Chair Barbara Hull — who furiously typed into her laptop during the reports — we have all of the suggestions documented. The comments covered a vast range of topics. Some of the issues that were consistently highlighted as being important for the guild include: education of new quilters; welcoming of new members and helping them find their place in the guild; more focus groups; more bus trips. As you might notice, these are things that the guild already does, but — we being the perfectionists that we are — want the guild to be even better. A hearty Thank you! to everyone who participated.
---
Another exciting happening at the meeting was the unveiling of the 25th anniversary Raffle quilt. It is simply breathtaking. It will be raffled at the 2007 Urban Inspirations Quilt Show (March 24–25, 2007). You can read more about the quilt, and see larger pictures of it by visiting the Raffle Quilt page. Raffle tickets will be available in the fall (and possibly in the summer!), and we'll be encouraging all members to sell as many tickets as they can. It shouldn't be difficult, because the quilt is a treasure.
---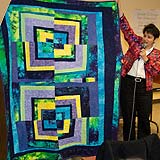 Debra Levin (pictured left) was the featured quilter of the month, and she showed quite an array of quilts. She has a vast palette of colors and styles. Be sure to take a look at some of her work on the Quilter of the Month page.
---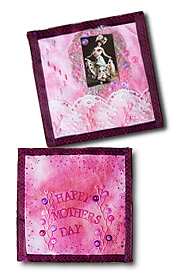 On Sunday following the meeting, several lucky guild members spent a relaxing and inspiring Mother's Day at a workshop with Leslie Levison. Leslie was our program speaker in April, and is an expert on all things crazy. The workshop attendees made folio pages, and during the process learned about embellishment, embroidery, beading, use of photos with works. We hope that we'll see the results of their day at an upcoming Show & Tell! Thank you, Leslie, for such a fun workshop!
---
April 2006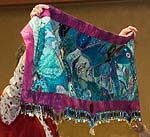 Our April meeting featured an entertaining and inspiring presentation by Leslie Levison. Leslie is a native New Yorker, and a founding member of Empire Quilters. She has a wonderful gift for telling stories!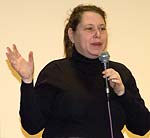 We all had many laughs as she shared her experiences of quilting in New York City and beyond. We were also captivated by her beautiful quilts. Leslie's work is creative, colorful, daring, unique and fun! Leslie's embellishment work is well-known throughout the quilting universe, and we all enjoyed the opportunity to see her work up close and in person. We saw turquoise mermaids, traditional crazy quilts,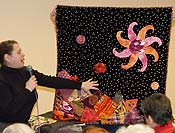 some very non-traditional crazy quilts (Biker Bob was a favorite!), and stitches of all flavors.
Leslie will be returning to the guild in May to give a day-long workshop during which she will share some of her tips and techniques — and probably some more stories, too!
---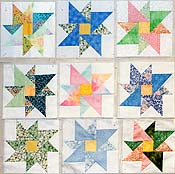 Mary Ferry was the lucky winner of the beautiful blocks of the month. The Pinwheel Star block was a popular pattern, and the blocks will make a terrific quilt. The instructions are posted on the Block of the Month page if you would like to try the block on your own. Members who contributed blocks this month were Tina Barth (2), Sylvia Hughes (2), Anna Krassy (1), Beth Pile (1) and Mary Ferry (2).
---
Quilt Show Chairman Larry Gifford gave a brief update of the show progress. The judges have been selected, and the quilt categories and judging criteria have been determined. Details will be published in the next guild newsletter, and will appear on the Show section of the website as they become available.
---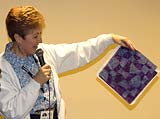 Anna Krassy was our guild Quilter of the Month, and she gave a delightful presentation! Anna used to buy her fabric at Macy's and Gimbels — we all had fun remembering the days when those stores had large sewing departments! In her quilting Anna experiments with all sorts of colors and patterns, and is usually in the midst of a quilting class. You can see see pictures of her work on the Quilter of the Month page.
---
We had several interesting and popular focus groups this month. Many people were drawn to June Calendar's presentation on Fabric Postcards, and other busy focus groups included Hand Quilting, Crazy Quilting, and Quilt as You Go.

---
March 2006

Spring is almost here — and the guild got a good start on the season with a fun bus trip to the Quilt Fest of New Jersey. The full busload of people had a great time seeing all the bright colors of the quilts in the show. As a special treat, we saw several works by our own members! Congratulations to Anna Faustino for her beautiful entry Lady Bugs on a Flower, and also to the members who had quilts in the special exhibit Art Quilters Alliance of New York: Mary Butler, June Calendar, Benedicte Caneill, Barbara Hull, and Sylvia Zeveloff.
---
The March guild meeting featured a presentation by Professor Rhonda L. Johnson on the issues surrounding copyright. Professor Johnson is Head of Access Services at Hostos Community College Library in New York. This was a hot topic, and there were many questions and a lively discussion. After hearing so many legal restrictions some of us were initially afraid to ever make another quilt — "What about polka dots? Am I infringing on a copyright if I use this fabric?" — but we were eventually reassured by the fact that copyright laws — with all their complexities — are in place to protect us and the works we create.
Everyone who attended the meeting went home with several detailed handouts covering copyright laws and their history, definitions of terms, and an extensive list of places to go for additional information. The definitive source for legal information can be found at www.copyright.gov, but the handouts also listed books, and Internet sites that specifically address issues of interest to quilters.
If you missed the meeting, the handouts will be available in the guild library. Many thanks to Professor Johnson for her introduction to this important topic.
---
Several items of business were covered at the meeting. Quilt show chairman Larry Gifford gave a brief update about the progress that the various committees are making. It was evident that we are all anxious to get started on our quilts. The committees will be publishing quilt entry classes and guidelines in the near future. It was exciting to hear that the raffle quilt is being quilted, and should be ready to star as our show mascot by next month.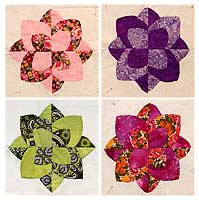 There weren't many participants in this month's Block of the Month, but the few blocks that were submitted were stunning. (The blocks are pictured, left.) Carmen Caldiero was the lucky winner of these few beautiful blocks.
Guild President Jennifer Bigelow read a lovely thank-you note from the United Nations delegation that attended our charity quilt day last month. Empire Quilters showed once again that we are not only a talented and hard-working guild, but that we are generous with our time, our materials, and our expertise. A good time was had by all, and many quilts were distributed to those less fortunate than us.
---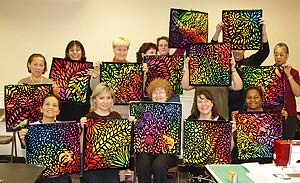 On Sunday March 12, several people gathered on a very rainy and dreary day to make some beautiful creations — just look at the results! The smiles of the workshop attendees are just as bright and cheery as the finished quilts. The workshop was led by Empire Quilters member Anna Faustino.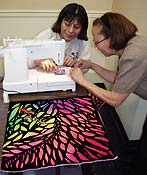 We are very fortunate (and grateful!) that Anna is willing and able to share her clever and unique techniques with the guild. If you missed this workshop, be on the lookout for Anna's next workshop (yet to be scheduled!). You can see more of Anna's fabulous quilts by looking through the guild's Show & Tell pages, or you can visit her website: www.NewTechQuilts.com.
---
February 2006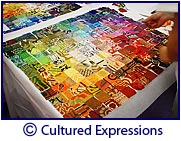 The first guild activity this month was a workshop given by Lisa Shepard Stewart called African Mosaic Quilting. The workshop was a repeat of one given last year — and it's popularity continues! Lisa is a wonderful teacher,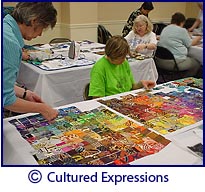 and the colors that everyone worked with were a perfect antidote to the winter gray that has been surrounding the city. We're all looking forward to seeing some of the finished works during Show & Tell at future guild meetings.
To learn more about the busy and multi-talented Lisa Shepard Stewart, visit her website: www.CulturedExpressions.com.
---
The February guild meeting was our annual Charity Work Day. Many members were able to make it to the meeting in spite of the blizzard that made us close up shop early. We finished over 80 quilts! Many of the quilts were immediately taken for distribution to various shelters and hospitals. It is a cold winter, and there are so many people in need of some hand made comfort. If you missed the meeting, you missed a lot of fun, but you can see pictures of the day's activities and of the finished quilts. (See below for the links.)
We are grateful to The City Quilter for once again donating all the batting for the quilts, and to Laytner's Linen & Home and Marcus Brothers Textiles for their donation of fabric. The contact information for these organizations can be found on the 2005–2006 Service Report Page. Let them know how helpful they have been!
For pictures of members hard at work, visit the 2005–2006 Service Report Page.
And to see some of the finished quilts, visit the Charity Quilts page.
Please remember that we collect quilts for charities throughout the year, so if you couldn't attend this meeting, don't be shy about bringing in your quilts to future meetings. And plan to come to next year's Charity Day. It is a lot of fun, and you'll be glad you participated.
---
January 2006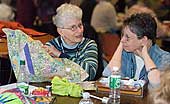 What an ambitious start to 2006! We all cleaned out our closets, found our determination, and brought some of our U.F.O.s (UnFinished Objects) for an afternoon of work and encouragement. We all had a great time. To see some examples of our U.F.O.s, click ››Here.
But even before the UFO activities started, the day was already busy — Mary Anne Ciccotelli led a workshop on Folded Hexagon Flower Bags. The workshop was packed, and everyone had a fabulous time. We're looking forward to seeing some finished bags at a future guild meeting.
---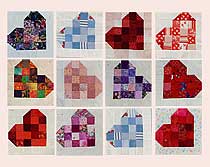 The January Block of the Month was very popular (and beautiful!) Many thanks to Leila Lieberman for all her planning and organizing for this activity.
The following members contributed blocks: Carmen Caldeiro (2), Anna Krassy (1), Mary Ferry (2), Beth Pile (2), Diane R (1), Marian Webber (1) and Agneta Noe (1) who won them all. Congratulations!
---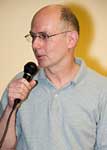 Quilter of the month Tom Cuff shared some amazing works with us. Tom is an accomplished quilter, and a collector of antique quilts. He showed some of his own work – which is exquisite! – and also brought pieces from his antique quilt collection. We were all very impressed with every piece. Thanks, Tom, for sharing these works!
To see pictures of the quilts that Tom brought, select his name on the Quilter of the Month page.
---
Show Chairman Larry Gifford gave an update about the March 2007 show. We're now officially out of the planning stage, and into the action phase. We're getting sponsors and vendors, and the various committee chairman are jumping into their tasks. Be prepared to be called on to help – or better yet, be sure to speak up and volunteer! And it's not too early to be working on your quilts for the show.
Last – but not least! – we had lots of enthusiastic participation in our monthly raffles. Thank you to all of you who purchased Raffle tickets! We had some really nice prizes this month.
---
December 2005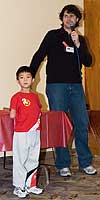 The guild's Holiday Fundraiser Bazaar was a fun time, indeed! There were focus groups, games, raffles and wonderful baked goods. Master of Ceremonies Michael Greenberg and his able assistant Michael Fung are pictured here. They kept the days activities moving along beautifully. A full report of the day's main events can be found on the 2005 Fundraiser page.
While people were catching their breath between ticket-drawings, we saw some very colorful Show & Tell items that were brought in by our members. Those can be seen by visiting the Show & Tell page.
Another highlight of the day was the display of the blocks that are being created for our upcoming 2007 Show Raffle Quilt. A few of the blocks are pictured here. Stay tuned to the 2007 Show page for future progress reports on this beautiful quilt, and for general updates about the show.

On Sunday following the meeting, the guild held a Gathering Day for anyone interested in working on their own projects, or helping with the guild's raffle quilt. We had some experts on hand to help individuals with tricky quiltmaking issues, and members shared tips and stories, and laughs.
---
November 2005
This month the focus groups were alive and well! There were groups learning to make tote bags, and learning about how to work with silk, and a fabulous on-going group about crazy quilting. This month there was also a very special group dedicated to the start of our 2007 Raffle quilt (see more below).
---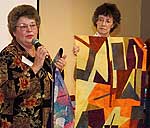 Speaker Carol Taylor wowed us with her work. Her presentation started with a slide show in which we were able to see how she plans her work. We could see which parts of her original plans make it into the finished work, and which parts of her plan are sometimes sacrificed during the creative process. Following the interesting slide introduction, we were able to see many of her finished works of art up close! There were many questions about her piecing techniques (thousands of pieces!), how she dyes her fabrics, and how she does her quilting. None of us really figured out how Carol manages to be so prolific, but we're glad she is! It was fun to see so many pieces in her various series (Gong Series, Confetti Series, and Linear series to name just a few).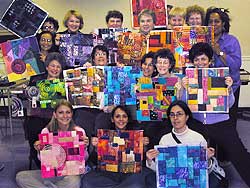 The day after the general meeting, Carol Taylor presented her popular workshop: Arc-I-Textures. As you can see from the picture at right, the results were bright and beautiful. (Click on the picture to see a larger version.) Carol will be teaching at several upcoming major shows, so watch for her schedule. She is a dynamic speaker and wonderful teacher.
If you missed the general meeting and were unable to attend the workshop, be sure to visit Carol Taylor's website: caroltaylorquilts.com. It is a great website with many pictures of her work.



---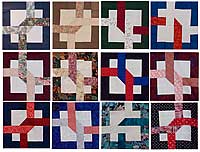 Rhona Triggs was the lucky winner of the Loop the Loop Block of the Month. The block was a popular one, and there were more entries this month than in previous months! We hope this is a trend that continues. The block of the month project is a great way to learn a new technique, or practice a new skill. Plus you may end up winning all the blocks that were submitted that month! Thank you to Leila Lieberman for her dedication with this committee.
Pat Decker was the Quilter of the Month. What an interesting path she has been on, and what fabulous work she does! You can read more about Pat, and see pictures of her quilts by visiting her Quilter of the Month page. You'll find a link on the Show & Tell page.

Following the main meeting several members took advantage of the focus group that was teaching the New York Beauty block. An example is pictured here. The block will be featured in the 2007 Raffle quilt All Around the Town. The raffle quilt committee is hard at work, and had pieces of the quilt on display. It is stunning! The guild can be very proud. We are certainly grateful to all the members who are participating. For more information on the show, and additional information about the raffle quilt, visit the 2007 Show page.
---
October 2005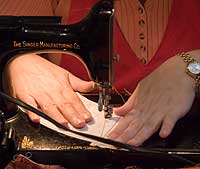 Empire Quilters participated in quilting demonstrations on Saturday, October 1, 2005 at the American Folk Art Museum. This annual event was part of the museum's Quilt Weekend, and was a wonderful opportunity to showcase our beautiful art form. It was also a perfect occasion to meet fellow quilters and soon-to-be fellow quilters.
Several other quilting guilds also participated in the event, making it a great time to connect with fellow quilters from all over the greater New York City area. Thank you to all who participated. For more information about the American Folk Art Museum, see their website: www.folkartmuseum.org
---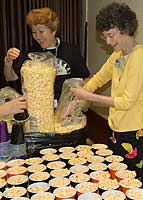 The general meeting this month featured a screening of the documentary Woman's Work: Making Quilts ~ Creating Art. The room has never been so quiet! It could have had something to do with the fact that we were all happily munching on our popcorn, but most likely it was the video itself. We saw the work of ten fabulous west coast artists, and learned about their different approaches to their art. You can learn more about the documentary by visiting the website: www.womansworkvideo.com.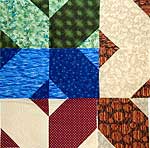 Rhona Triggs was the block of the month winner. If you haven't participated in this fun activity, you should give it a try! See the Block of the Month page for the November block. It is another stunning example of how a block that is made up of easy pieces can look quite complicated when finished.
Kitty Squire was the lucky winner of the guild's 50/50 raffle to aid victims of hurricane Katrina, and Kitty was extremely generous to donate her winnings to be included with the guild's donation. Thank you, Kitty! The check was sent to the Hurricane Relief Fund at Habitat for Humanity.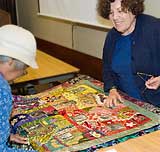 Natalie Garfinkle was the guild's Quilter of the Month. We were all amazed at the detail work in her crazy quilts. We were also entertained by her stories of how the quilts came to be. To see some examples of Natalie's work, visit the October Quilter of the Month page.
And last, but certainly not least, quilt show chairman Larry Gifford announced the committee chairmen for the quilt show. The whole committee is hard at work. You can find the names of the committee chairs, and follow all the progress on the show by visiting the 2007 Show page.
---
September 2005
The first guild meeting of the 2005–2006 season was well attended by enthusiastic quilters of all ages and interest. It was great to see everyone. Show & Tell was beautiful and inspiring. Be sure to look at the pictures. They can be found by going to the Show & Tell page.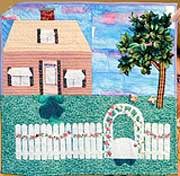 Beth Pile was our guild Quilter of the Month. Her quilts encompass many aspects of her life — her love of gardening, and home, and color. One of her mottos is Bloom where you are planted. We are so glad that Beth is planted in our guild, and we're glad she shared some of her work with us. Beth's favorite type of quilt project is crazy quilting, and this season she is co-leading (with Natalie Garfinkle) a focus group on crazy quilting. To see more examples of Beth's work, visit the Show & Tell page. You'll see her listed as the September Quilter of the Month.
---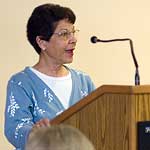 Speaker Dorothy Scalice wowed us with so many examples of her beautiful work. Dorothy is fearless — she'll take on any type of project and will make it her way.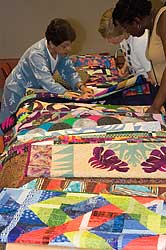 And her way usually tends to be easier and more efficient than the "traditional" way. While working on one project, Dorothy is always thinking about repeating it with some tweaks in the pattern or a totally different color combination and size. During her trunk show Dorothy shared how she adapts patterns as she works with them — adding here and subtracting there.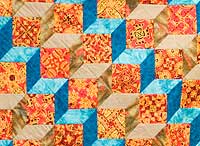 Dorothy teaches quilting classes in and around New York City. If you get a chance to take one of her classes you won't be disappointed! You'll have a great time with this energetic and entertaining teacher, and you will learn how quilting can be even more fun than it already is for you.
Special Note … Dorothy will be leading a workshop later in the year for Empire Quilters. Watch for information – you won't want to miss it!
---
One of the most exciting pieces of news from the meeting was that the Show is ON! Show committee chairman Larry Gifford announced that the show dates for the next Empire Quilters show will be March 24–25, 2007. Larry has been busy all summer, and he is lining up vendors, and sponsors, and guild volunteers. We need the help of every guild member to make this show the spectacular success that it can and should be. Please keep checking the 2007 Show page for up-to-the-minute status reports about the show. And please contact Larry Gifford to let him know how you would like to participate.
---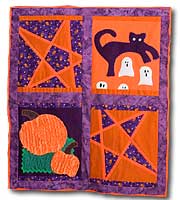 The day following the guild meeting Mary Butler led a fun Halloween Sampler workshop. The beautiful wall hanging illustrated several different techniques — swap stars, chenille pumpkins and a big black scary cat! With input from Fons & Porter, Clotilde, and Quiltmaker, everyone had time to master some new techniques and some tried and true.
Mary Butler is a past president of Empire Quilters, a talented quiltmaker and a fabulous teacher. We are delighted that she presented this fun workshop.
---
August 2005
The guild season started with a shopping trip to Lancaster, Pennsylvania. A bus load of quilters hit the road and the shops looking for great bargains. The trip was a great success — everyone had a good time, and found some great fabric for their next project.