Gallery - September 2007 - Janet Randolph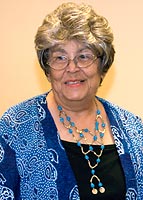 Janet Randolph is one of our favorite guild members! She has taught quilting and sewing for many years — including countless focus groups for Empire Quilters. Many of us have learned some of our favorite techniques from Janet. We are grateful for her enthusiasm, her creativity, and her generosity with sharing her extensive knowledge with us. At the September meeting, Janet showed quilts and quilt tops from some of her many classes. Janet's assets and treasures include one husband, three children, six grandchildren and three great-grandchildren, a room full of fabric, a room full of books and ten sewing machines.
Click on any image for more information, and a larger picture.
| | | |
| --- | --- | --- |
| Advent Calendar made | Attic Windows | Autumn Table Runner |
| Baby Bag and Quilt | Baby Bag and Quilt | Baby Bag and Quilt |
| Bag | Bags | Bargello Flag |
| Blanch's Trip Around the World | Bob's Fans | Bob's Favorite |
| Card Tricks | Carla's Colorado | Christmas Windows |
| City Witchey Wall Hanging | Clifton Four Patch | Colorful Bargello |
| Detail of a panel for a Neighborhood Tote Bag | Elegant Bride's Bag | Fabric Shopping Bag |
| Fade to Black | Feast of Browns | Flower Panel Work-In-Progress |
| Garden Wall | Green Quilted Tote Bag with Pink Flowers | Hearts |
| Janet Randolph Doll made | Japanese Fabric Bag | Jungle Animals |
| Kimono Work-In-Progress | Log Cabin Heart | Maroon Stars Unfinished |
| Orange Fish | Pharoh Name Tag & Bag | Pinwheel Log Cabin |
| Poncho | Purple & Green Zig Zag Unfinished | Purple & Purple Flowers Unfinished |
| Purple Bargello | Purple Fish | Purple Married Green |
| Quilted Tote Bag | Rainbow Twist | Raspberry Red Parfait |
| Red, White & Blue Unfinished | Ruffled Do-Da! Bag | Scrap Work |
| Serengeti Sunset | Starry Flight | Terry's Log Cabin |
| The Men I Spent My Saturday Afternoons With | The Sun Never Sets | Tote Bag of Bags |
| Tote Bags | Wardrobe Planning | |