Gallery - November 2010 - Marilyn Korn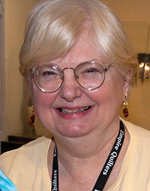 Marilyn Korn made her first quilt more than 25 years ago. It included scraps from her own and her daughter's dresses. Marilyn met members of Empire Quilters at a quilt show at one of the Hudson River Piers, and joined the guild in 1995.
Marilyn makes quilts for herself, family members, and charity. Marilyn has taught focus groups about various types of quilts at Empire and Quilters of Color / Network of New York meetings. Marilyn has served as co-chair of Empire's Library and Charity Committees and co-chair of the Judging Committee for the 2009 Quilt Show. In between, she was First Vice President of Empire for four years.
As you can see, Marilyn is a busy, and valuable (and fun!) member of the guild. We're happy to show a few of her recent pieces.
Click on any image below for a larger picture.
| | | |
| --- | --- | --- |
| 9-Patch Hourglass (1) | 9-Patch Hourglass (2) | Charity Quilt |
| Charity Quilt | Churndash | Doll |
| Egyptian Lotus 9-Patch | Fan Quilt | Handbag |
| Masks on Parade | Michelle' Handbag | Nefertiti Crazy Quilt |
| Pinwheels (1) | Pinwheels (2) | Purple Cathedral Windows |
| Purple Paisley | Red Plaid Lap Quilt | Scrap Table Delight |
| Stacy's Quilt | The Bird That Ran Across My Quilt | Wall Hanging |