Gallery - February 2009 - Jane Rosenthal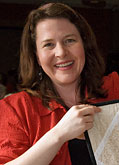 As a very young girl growing up in Northern California, Jane Rosenthal was much more interested in making clothes and quilts for her dolls than she was in playing with them, and she completed some of her first miniature quilt projects while in grade school. Early inspiration came during summer visits to grandma who lived in Lancaster, Pennsylvania where beautiful Amish quilts could be seen hanging from every clothesline. The dramatic colors of the Amish quilts inspired Jane to begin her first queen-size quilt at the age of 12, and she has been quilting ever since.
Jane still admires dramatic use of color and shapes, and likes to experiment with a variety of techniques to create these effects, including patchwork, paper-piecing and appliqué. Her work is influenced by her travels (New York, Hawaii, California, South America, Pacific Northwest, Europe) as well as the stories and fabrics shared with her by her students during her many years as a teacher of English as a Second Language. When she isn't quilting, Jane is an Educational Psychologist working at New York University.
Click on any image for more information, and a larger picture.
| | | |
| --- | --- | --- |
| Baby Quilt I | Baby Quilt II | Bob's Quilt |
| California Amish | City on a Hill | Fall |
| Jungle Boogie | Mary Ellen & Emily's Wedding Quilt (Side 1) | My Little Manhattan |
| New York Beautiful [partial view] | Sampler Quilt | Spring |
| Summer | The Four Seasons | Tic Tac Toe |
| Winter | | |