Gallery - May 2009 - Mary Cargill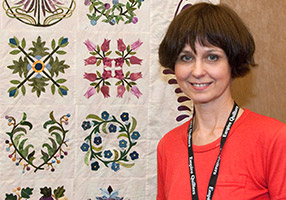 Mary Cargill began her fabric buying life as a garment sewer, but eventually realized that she couldn't keep it up when her collection began taking over. According to Mary, in a few years the Garment District will be China and her apartment! Mary also does a lot of crewel embroidery — basically painting with thread. She has always loved quilts, but was worried about developing yet another hobby. However, once The City Quilter opened, it changed her life.
Mary loves making appliqué quilts — however she doesn't have the finishing thing down pat yet. She has also taken several classes at The City Quilter making scrappy quilts to try to use up some of her fabric, although she never seem to make a dent in it! Mary's two pieces of advice: 1) Support your local quilt shop, and 2) You can never have too many greens!
Click on any image for more information, and a larger picture.
| | | |
| --- | --- | --- |
| Foxgloves | Jewell Boxes | Knotted Thing |
| Log Cabin | Mariner's Compass | Morris Star |
| Painted Flowers | Plum Garden | Plumeria |
| Rose Bouquet | Speaking to Me | Square Jewels |
| Strawberry Star | Sun and Sky | Tiffany Bouquet |