Gallery - May 2008 - Sandra Samaniego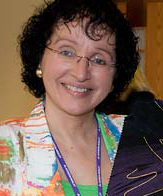 In 1994 Sandra Samaniego took an adult education quilting class in Jersey City and made a sampler quilt. A year later she joined the Jersey City Quilters Guild — a small group of 20 or so members — and then joined Empire Quilters a few years later. She is also a recent member of Quilters of Color Network in New York.
Sandra has always liked work that was "outside of the box" — non traditional, contemporary, art quilts — the best. Sandra's training is as a clinical psychologist. This past September she was able to work four longer days a week instead of five as at Lenox Hill Hospital Out Patient Center for Mental Health where she has worked for the past 28 years. Consequently, she has been able to complete lots of projects. Sandra is a much happier camper as a result. She also encourages and teaches patients with whom she works who express an interest in crafts to make quilts, dolls, etc. and provides them with fabric and yarn (from her stash). They find it helps them psychologically to feel less depressed, less anxious, have improved self esteem and to beautify their homes and lives.
Sandra is largely self taught but learns much from books and magazines as well as from craft and quilt shows on TV. She also visits lots of art galleries, quilt and craft shows. In addition to quilting Sandra creates altered books, dolls (she belongs to the Manhattan Doll Guild which meets at The City Quilter monthly), and incorporates other art/crafts techniques into her quilts (beading, painting, found objects, etc).
Click on any image for more information, and a larger picture.
| | | |
| --- | --- | --- |
| Altered Jeans Pocketbook | Asian Quilt | Baby Quilt |
| Candy Stick etc. | Combo | Costume Jewelry Quilt |
| Crayon Mandala | Crazy Wall Hanging | Cups |
| Dolls | Each Day is a Gift | Embellished Piece |
| Falana - Ethiopian Doll | Fish | God's Eye |
| Goddess Circle Weaving | Going to Town | Going to Town |
| Halloween Fun | Island Dreaming | Jacket |
| Labyrinth | Little Bits I | Little Bits II |
| Little Bits III | Long and Winding Road | Mandala Quilt |
| Mask I | Mask II | Meltdown |
| Milagros Meets Jackson Pollock | Milagros Meets Jackson Pollock | Old & New - Opposites Attract |
| Outer Space | Parrot | Parrot Feathers |
| Pink and Blue | Play with your Vegetables! | Primitives |
| Purple Goddess | Red Stripes | Robot |
| Robot Tote Bag | Rorschach | Skulls and Skeletons sweatshirt jacket |
| Snippets Abstract I | Snippets Abstract II | Snowmen |
| Spin Art I | Spin Art II | Stamped and Woven |
| Sweatshirt Jacket | Tee-Shirt Quilt | There Be Whales |
| Three Faces | Tie-Dye | Tote Bag |
| UFO Completed [Side A] | Untitled | Untitled |
| Where's the Jacket? | Winter Curvy Weaving | Yarn + Dolls = Quilt |