Workshops
Empire Quilters workshops are always inspiring, popular and fun!
Our Workshops this year are at The Alliance for Resident Theatres, 520 8th Avenue at 36th Street, Suite 319.
As of November 2016 and going forward, you will need to bring Photo-ID with you in order to get into the workshop space.
The workshop fee is $65 for Empire Guild members and $75 for non-members
Diamonds in the Sky by Michelle Hiatt
Sunday, June 11, 2017 - 10A to 4P
Michelle Hiatt-Diamonds in the Sky
$65 Members; $75 Non-members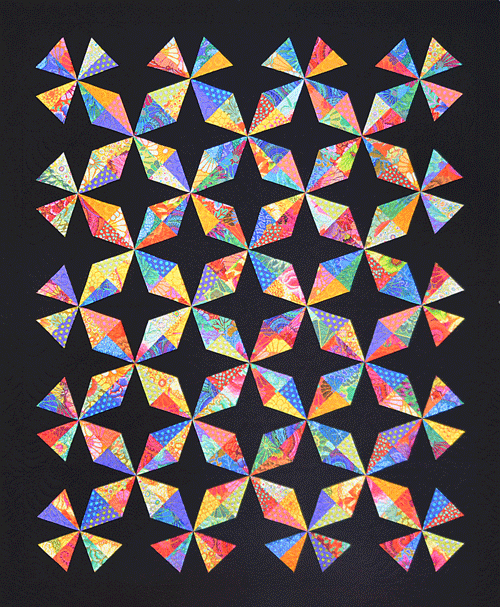 Michelle Hiatt - Diamonds in the Sky
Michelle designed this dazzling quilt for Modern 180 Designs. With Diamonds in the Sky, you'll create brilliant 4 piece Diamonds that radiate, plus a beautiful alternating block to give this quilt dimension and allow it to shine! Use Fat Quarters, 6" strips or scraps. For that high contrast. shimmery look, use assorted bright fabrics for your Diamonds and a dark or light background.
Included are tips on how to use Deb Tucker's Corner Beam™ as well as how to match points, piece on-point quilts, strip piecing techniques, and general machine piecing hints.
Supplies:
Basic Equipment:
• Sewing machine in GOOD WORKING order
• Extension cord, chair cushion, camera, notebook…
• New needle (I use size 80/12 microtex sharp needle)
• Neutral or matching colored thread
• Rotary cutter (new blade suggested)
• Cutting mat (12" x 18" suggested)
• Modern 180 Pattern - Diamonds in the Sky - provided
• Studio 180 Design Corner Beam - provided
• Tucker Trimmer 3 or 9 ½" Square or Larger
• Fabric Marking Pen (recommend Sewline's)
• Quilter's Magic Wand (Studio 180 Design)
• Invisigrip recommended for back of tool
• General sewing kit: scissors, seam ripper, pins, etc....
Fabric Yardage:
Assorted Bright Fabric = 2 ¼ yd or 14 Fat Quarters
Dark Background = 4 2/3 yd.
Binding = ¾ yd.
Backing/Batting = 4 yd.
Pre-Class Cutting:
First cut borders lengthwise from background fabric so as not to have to piece them.
Cut and piece 2 strips 3 ½" x 57 ½" and 2 strips 3 ½" x 64 ½"
From Dark/Light Background:
1. Cut 19 strips 5 ½" wide, sub-cut into 128 5 ½" squares
2. Cut four 15" x 15" squares
Sub-cut twice diagonally to make 14 triangles plus 2 extra
3. Cut 2 squares 8 ¼" x 8 ¼". Sub-cut once diagonally into four triangles
From Assorted Brights:
Cut 2 strips 5 ½" wide by half width of fabric (est. 21" long) from each of 14 fat quarters.
Leave these as Strips and we will learn the sub-cutting technique in class.
Fee: $65.00

This workshop takes place on:
Date
Time
Sunday, June 11, 2017 - Sunday, June 11, 2017
10:00 AM-4:00 PM
Book this Workshop
Previous Workshops
Artful Log Cabin by Katie Pasquini Masopust
September 11, 2016
Artful Log Cabin
Sunstar by Paula Nadelstern
Paula Nadelstern - SUNSTAR
Sunday, November 13, 2016 @ 520 Eighth Avenue (between 36/37th Sts) Room 319
Fee $65 for members $75 for non-members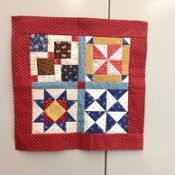 Practice Makes Perfect: A 4 block Sampler Quilt with Diane Rode Schneck
Learn how to perfect your machine piecing skills and practice some tricks and different techniques useful for sewing small scale quilts. We'll look at two different approaches: Accurate half-square triangles, quick quarter-square triangles, flying geese and more!
The 4 block sampler, made of 6" blocks,can be finished as a doll quilt, wall quilt, pillow or table topper.

Skill level - all levels, students should know how rotary cut and sew quarter inch seams by machine.
Supplies :
Sewing machine with neutral colored thread (Must have 1/4" foot)
Cutting tools Rotary cutter and mat Rotary cutting rulers- The most useful sizes are 3.5" square, 6 or 6.5" square, and 4-6" wide by 12-14" long
Seam ripper
Small thin pins Pencil Small 6" flat or bevel edged ruler
Fabric scissors Small, sharp scissors (optional but really handy)
Fabrics : Assortment of fabrics - at least 5-6 different prints and/or solids These can be either scraps, fat quarters or long quarters, the more variety the better. Most pieces are 3.5" or smaller, so you don't need huge pieces of fabric. The color and number of different choices are up to you, but I always choose as many different fabrics as I can. You can certainly do the quilt from 5-6 fabrics, but I'd rather use twice as many! Setting fabrics (sashing and borders) 1 or 2 different 1/4 pieces (either long or fat quarters will work) Additional fabric needed for backing and binding - to be discussed in class.
Price is $65 for Members and $75 for Non-Members
Sunday, January 15, 2017 10:00 AM-4:00 PM
520 Eighth Avenue (between 36/37 Sts.) Rm 319
For a printable supply list, click here