Workshops
Empire Quilters workshops are always inspiring, popular and fun!
The workshop fee is $65 for Empire Guild members and $75 for non-members
Workshops are moving to GOTHAM QUILTS 40 West 37th Street (btwn 6th and 7th Ave.)
All workshops will be held on the Friday before the monthly meeting.
Workshops
Crazy Embroidery with Betty Pillsbury
Friday, April 13, 2018 NEW DAY!
Gotham Quilts 40 West 37 Street New York, NY
Between Fifth and Sixth Avenues
10 AM - 4 PM $65 for Empire members $75 for non-members
Come Meet a Crazy (Quilter)
Betty Pillsbury- our April teacher
Betty Pillsbury says she taught myself to embroider at age 8. I harangued my mother until she bought me a stamped tea towel and some needles and floss. My mother could crochet like a dream, but actually hated the thought of embroidery. I was enamored of it! After the tea towels, came pillowcases, the legs of jeans, t-shirts, anything that wasn't moving. Over the years, I have done many techniques with needle and thread: Surface embroidery, hardanger, hedebo, silk & metal work, or nue, silk ribbon embroidery, stumpwork, needlelace, shadow work, samplers, cross stitch, pulled thread, drawn thread, trapunto, candlewicking, Montmellick, beadwork, heirloom sewing, and lots more! I love it all! (? Who know there were so many ways to work thread into fabric?) But, Crazy Quilting is where my heart resides. Betty will teach her repetoire of stotches that make zrazy quilts come alive.
Workshop Info:
Crazy Embroidery: Every crazy quilt needs hand embroidery. Famed Betty Pillsbury will demonstrate variations of classic crazy quilt stitches such as twisted herringbone, tied herringbone, triple feather, maidenhair, etc. Learn why the chant, "Shoulder, shoulder, bellybutton" will help you stitch better. MANY stitches and tips taught.
Empire Quilters has assembled kits of donated silks available for $15 to create a sample piece of crazy patches to practice these stitches.
Fee: $65.00

This workshop takes place on:
Date
Time
Friday, April 13, 2018 - Friday, April 13, 2018
10:00 AM-4:00 PM
Book this Workshop
Sewing with Silk with Cheryl Lynch
Friday, May11, 2018
Gotham Quilts 40B West 37 Street New York, NY
between Fifth and Sixth Avenues
10 AM - 4 PM $65 for Empire members $75 for guests
Sewing with Silk
Cheryl asks, "Have you been intrigued by the sheen and glamour of Dupioni and other upholstery Silks but are afraid to work with ithem?" Mid weight silk is a beautiful and multi-faceted fabric that adds elegance to any project. It can be stabilized so that it will behave like cotton. It can even go through the wasiung machine on gentle and come out looking fresh, without losing its sheen. Cheryl will share her tips for working with silk while each participant will design and construct a wallhanging out of half square triangles. Kit including fabric, tips and pattern to create a wallhanging that measures 24" x 36" is available. $30.00
Empire Quilters has assembled kits of donated silks available for $15.
Cheryl Lynch is a busy quilter/teacher who has made place for herself in the quilitng community with ingenious ways to make curves, handle difficult fabrics and who loves to share her passion for the turning fabric into award worthy quilits and quilted wall hangings. Join us as she shows us how to make the often hard to handle silk into dazzling treasures.
Fee: $65.00

This workshop takes place on:
Mark Sherman's Remarkable Hand Applique by Machine
Fee: $65.00

This workshop takes place on:
Previous Workshops
Workshops
Tumbling Blocks with Edward M. Bostick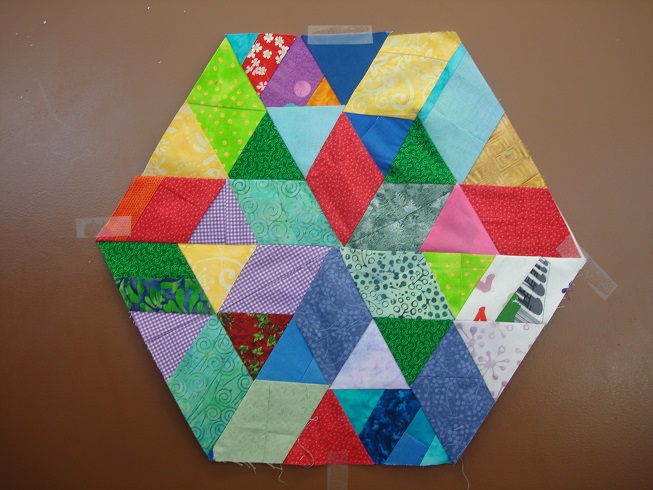 Edward M. Bostick, Ed to his friends, will be teaching one of his favorite blocks -
Tumbing Blocks - and will show how to make color shoices - his specialty - to
emphasize the charm and difficulty of this historical block.
$65 for Members ($75 for non-members)
Bobbin Quiltin' Fun! Workshop - with Michelle Scott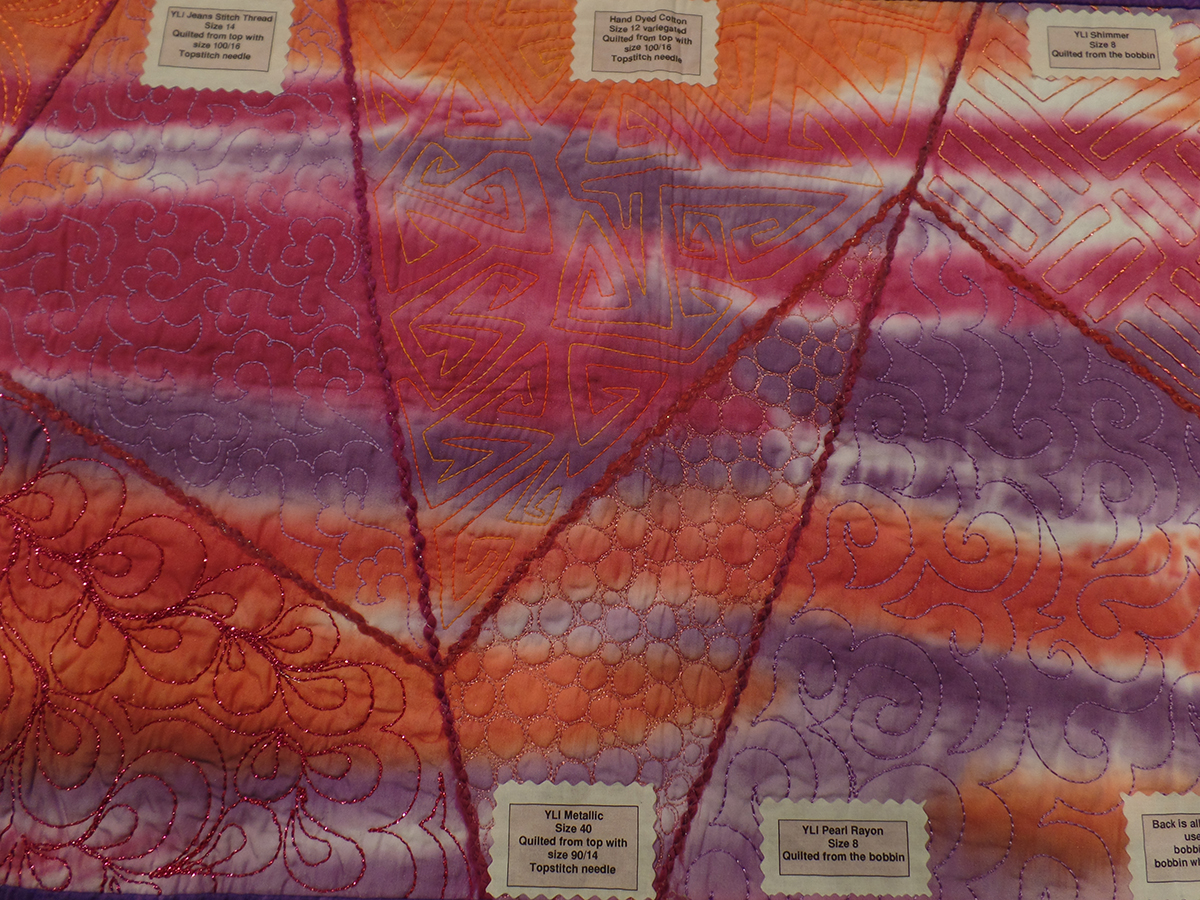 Michelle Scott, well-known quilter and teacher, asks: Why agonize over breaking needles and shredded threads when doing decorative quilting? You can simply flip the quilt and machine quilt it up-side-down! Bobbin' Quiltin' Fun is the fusion of a basic and advanced machine quilting class! If you have some free motion quilting experience but want to enhance your skills with decorative threads like rayon and metallics, this is your class. We problem solve decorative threads and yarns with different tips and tricks I use to put threads through the top needle. If that doesn't work, we'll bobbin-quilt it!
You'll get familiar with your machine, adjusting both top and bottom tension while learning all those cool quilting patterns that don't need marking. Take machine quilting to the next level as you create your own interesting patterns without templates - learn those fabulous free motion "doodle" designs you do not need to mark!! In this incrediblely fun and creative class, we experiment with beautiful decorative threads – even those tough ones that keep breaking in your machine! Other things we explore – free motion zigzag and some fusible appliqué! This is an information packed class! We'll also create a great wall hanging of threads and yarns to practice new surface embellishment skills! You learn how easy it is to stitch exquisite threads from the bobbin of your sewing machine. We'll even mahcine couch with funky yarns!
Level: Beginner through Advanced. Based on the AQS book by Michele Scott
Sashiko with Atsuski Futatsuya
Empire Quilters January 2018 Workshop
Friday, January 12, 2018
Gotham Quilts 40 West 37 Street New York, NY
between Fifth and Sixth Avenues
10 AM - 4 PM $65 for Empire members $75 for non members
Sashiko Kit $60 required
Unlike Ikebana (Flower Art) and Chano-Yu (Tea Ceremony) which became considered as the way of Japanese art, Sashiko was too ordinary for many people to give it art status. But the technique allows accurate stitiching which Atshusi will teach at the January workshop and the effect has become acknowledged as an art form on its own merits.
I am the firstborn child, says Atsushi, in a surviving Sashiko family in Japan. My grandmother's great mother was famous for doing Sashiko, and my grandmother established a business based on that. I have plenty of experience since I was "forced" to do Sashiko to take over. Now I am expert in Sashiko. Join us for a workshop in the traditional way of doing the actual sittiching and practice some of the well known patterns using the sititching. The class requires a kit including the Japanese indigo fabric, a rouind thimble which gives you the control for the stitidching and as well as the thread and needles.
Class is limited to 16 students and will provie individual attention by Atsushi.
Click here for Sashiko Workshop Video.