Workshops
Empire Quilters workshops are always inspiring, popular and fun!
The workshop fee is $65 for Empire Guild members and $75 for non-members
Workshops are at GOTHAM QUILTS 40 West 37th Street (btwn 5th and 6th Ave.)
BETWEEN 11am and 5pm
All workshops will be held on the Friday before the monthly meeting.
When booking a workshop please put what workshop you are interested in in the body of your message. Thank you!
Previous Workshops
Mod Molas and Bright Blooms with Mel Beach
Mel Beach
MOD MOLAS & BRIGHT BLOOMS
Friday, October 12, 2018
Gotham Quilts 40 West 37 St 11 AM to 5 PM
$65 for members $75 for non-members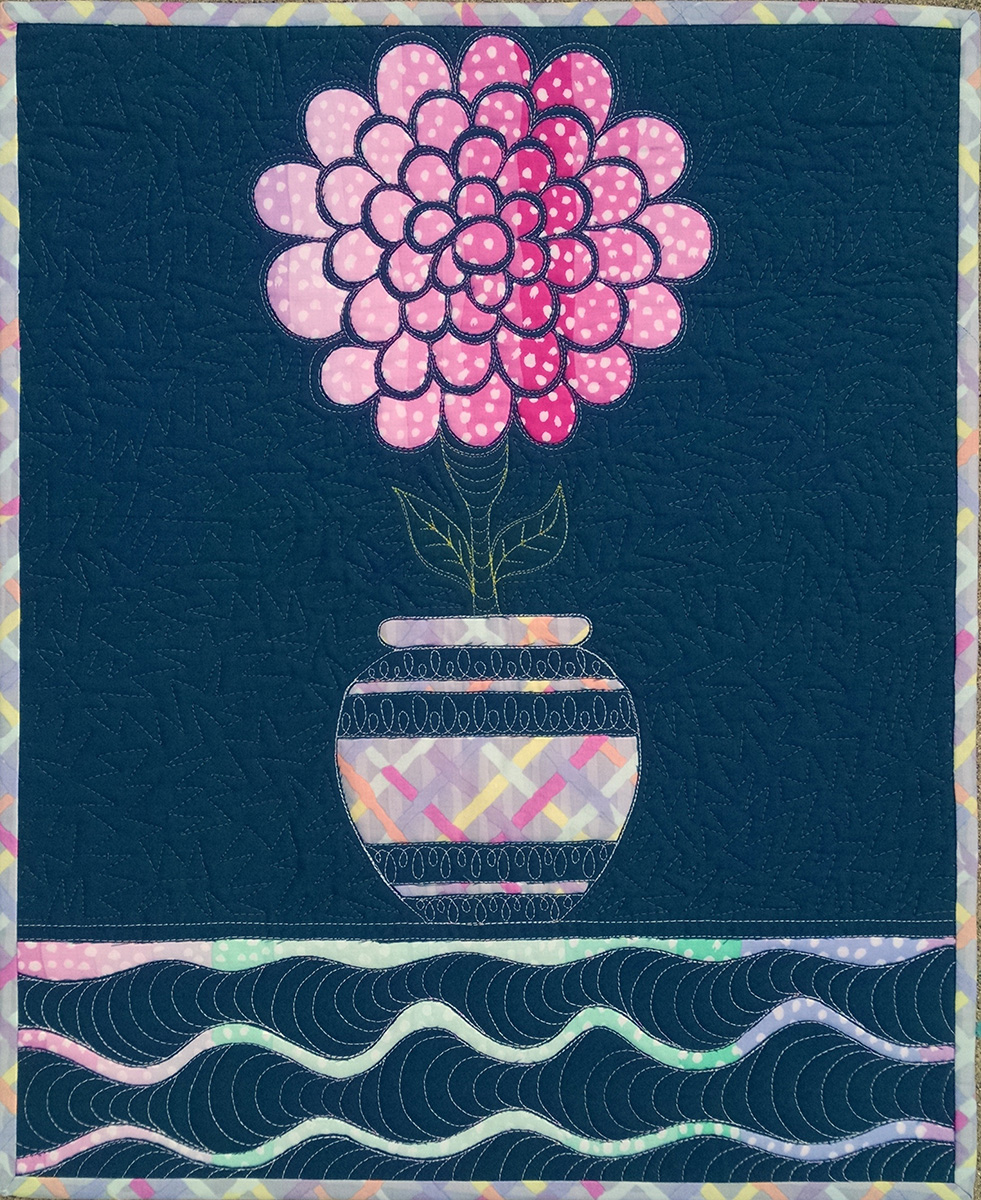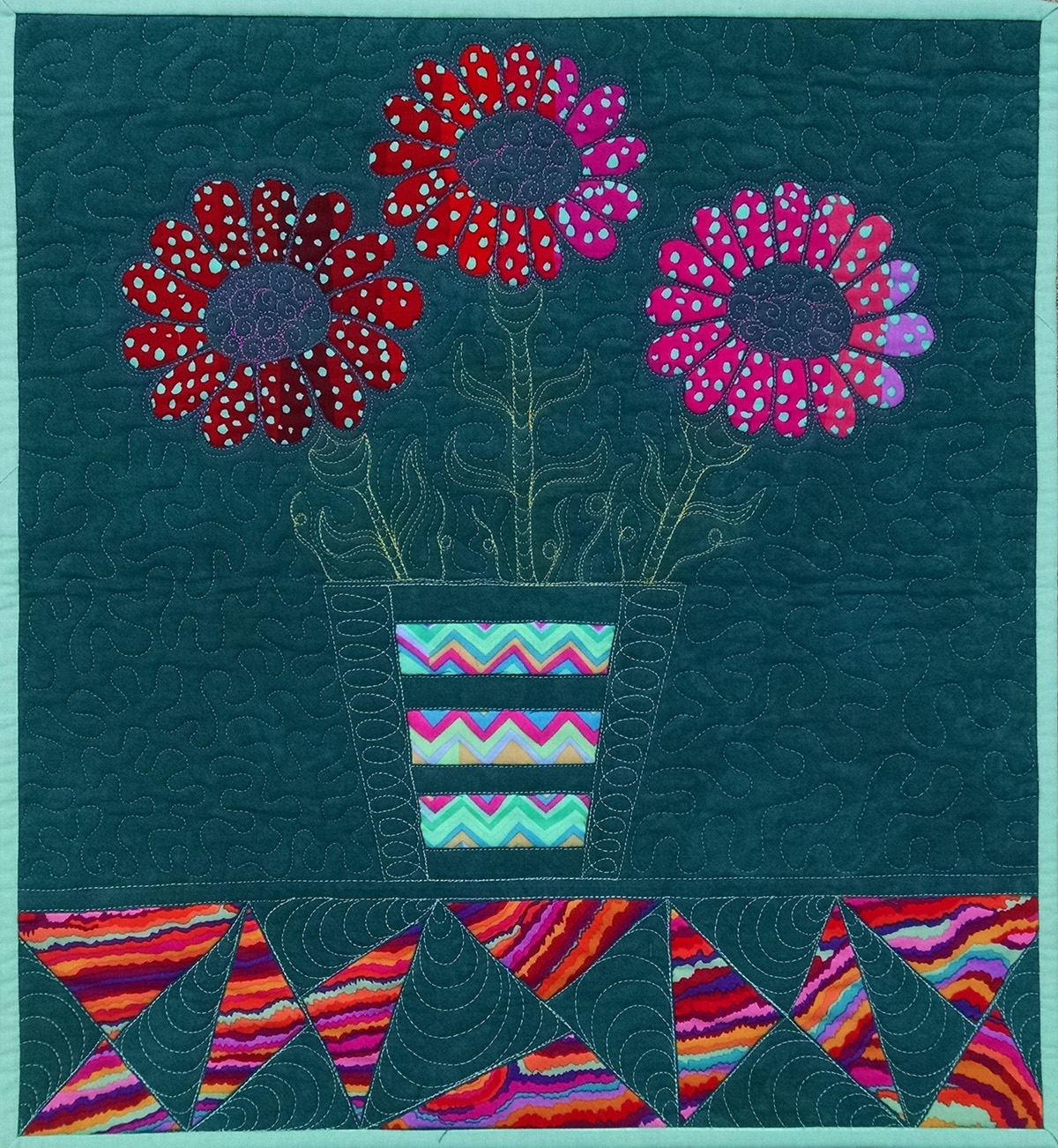 Mel Beach, a leader in working to expand ideas and ways of quilting, will help you cultivate your own beautiful garden scene that is layered with exciting color and texture. She'll help your flowers germinate and grow into an original wholecloth quilt. Enjoy the spectacular final transformation as your flowers bloom into brilliance.
Broidery Perse Explained with Mary Cargill
January 2019 Workshop
Mary Cargill
BROIDERIE PERSE EXPLAINED
Friday, January 11, 2019, 2019
Gotham Quilts 40 West 37 St 11 AM to 5 PM
$65 for members $75 for non-members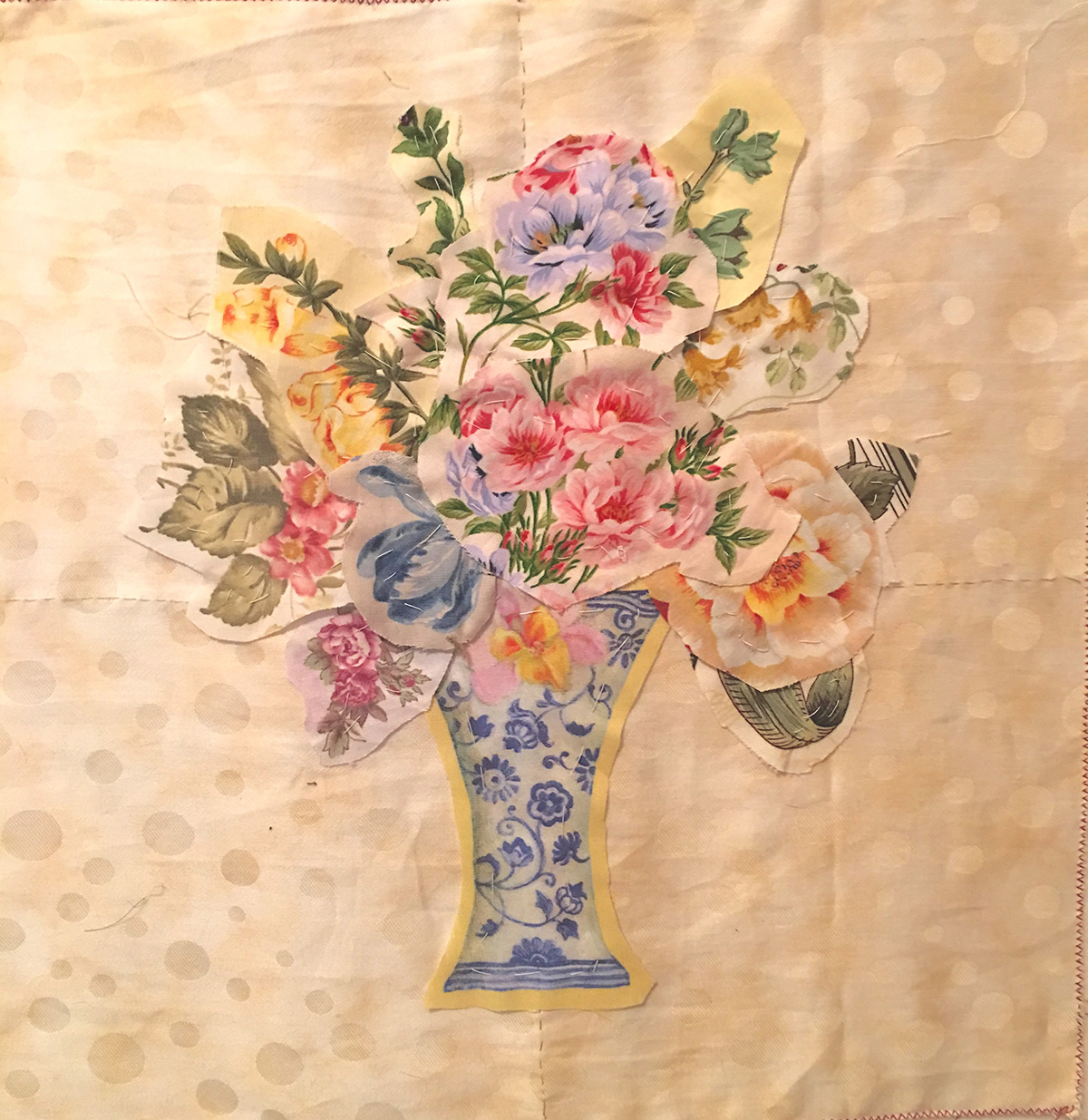 Broiderie Perse will be presented by Mary Cargill,one of Empire Quilters long time members : now
our Library Chair. She is known for her hand quilted extravaganzas and an expert at Broiderie Perse.
Mary says, "Broderie Perse
is a very versatile quilting technique which creates a scene using printed designs on fabric appliquéd onto a background fabric." This class will introduce the basics, using a vase shape filled with flowers. You could certainly do a bouquet instead, or a
basket of fruit (if you have fruit fabric), or a combination of fruit and flowers.
I will talk about the kinds of fabric which work best, where to find ideas, arranging the motifs,and how to appliqué them to the background. If you are an appliqué novice, I will introduce you and show the best way to set one fabric over another.
If you have any questions, please email me at cargill@columbia.edu
Take Two with Pat Pauly
Pat Pauly "TAKE TWO"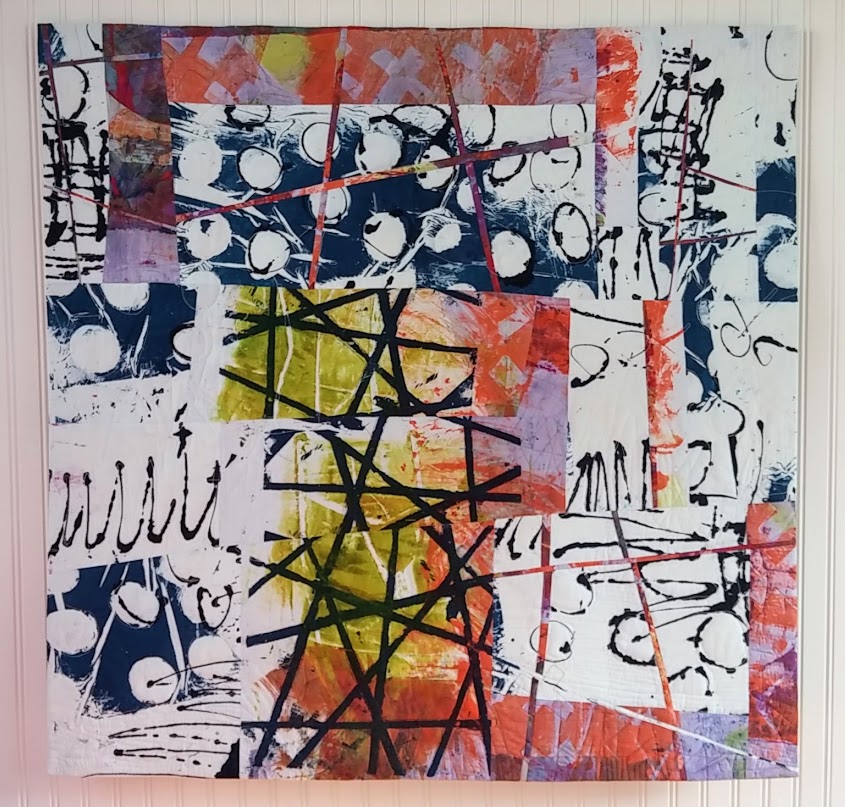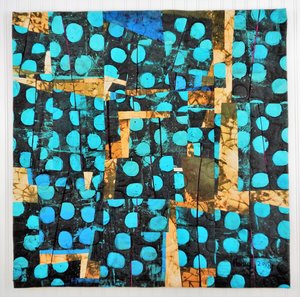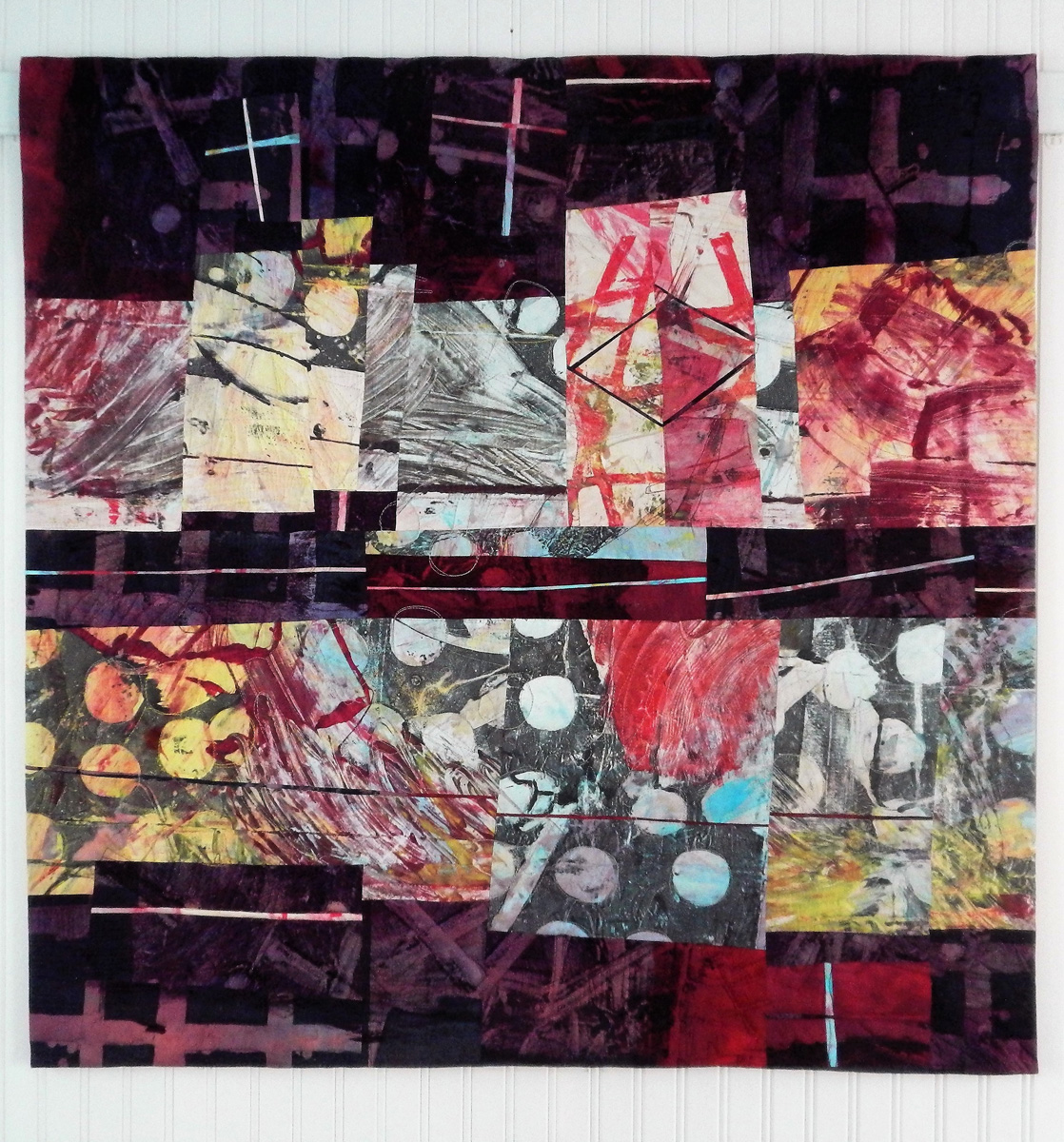 Gotham Quilts
40 West 37 St 11 AM to 5 PM
$65 for members $75 for non-members
Pat Pauly visits us from Rochester, New York. A sought-after lecturer and teacher in contemporary fiber arts, Pat Pauly shares her wealth of knowledge from decades of working in design. Recognized nationally and internationally for her work that evokes bold and graphic natural forms. Her art quilts have been featured in numerous publications and exhibitions. Her workshops focus on design and technique, as well as when to apply the rules, and when to toss them out.
Take Two is one workshop focusing on designing abstract contemporary quilts. We'll grab only two hunks of fabric to make a piece that explodes! This is a great class for those who use artist-made fabric, or have a large scale commercial print. I'll show you how to design with improvisational piecing, letting the fabric do the work. We'll do some warm up design exercises, then dive in and cut up that great fabric. Leave the rulers and templates behind, gain strength in cutting freehand, and discover how to use your fabric in a strong composition.