Workshops
Empire Quilters workshops are always inspiring, popular and fun!
Our Workshops this year are at The Alliance for Resident Theatres, 520 8th Avenue at 36th Street, Suite 319.
We will not be having any workshops during February and March. Our next workshop will be Karen Eckmeier's Lets Make Waves.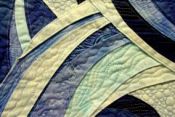 Karen Eckmeier Let's Make Waves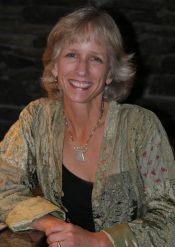 Let's Make Waves is a 6 hour technique workshop with Karen Eckmeier. It is time to play with fabric in this terrific technique workshop. So grab your rotary cutters and let's loosen up by cutting wild curves and dramatic angles! Learn to "go with the flow" and find out how relaxing free-form cutting and layered topstitching can be! Karen will show you how to use your Layered Waves fabric in traditional and contemporary quilts, impressive borders, eye-catching wearables , background for applique and much, much more! For Supply list, please click on Find out More below.
Fee: $65.00

This workshop takes place on:
Previous Workshops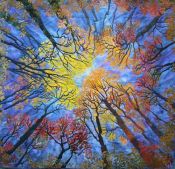 Colour is Magic
Sunday, September 9
GLORIA LAOUGHMAN-Colour is Magic 10 AM - 4 PM NEW TIME Place: Alliance for Resident Theatres, 520 8th Avenue at 36th Street, Suite 319, telephone: 212-244-6667
Gloria's quilts are masterpieces that seduce the eye to see landscapes differently. This stress free class lets students have fun experimenting with colour and design. From structured colour schemes, students will confidently move on to create a simple landscape quilt featuring their own unusual palette of fabrics. The emphasis will be on using colours not seen in nature but which work harmoniously for a stunning and different effect.
Due to the change in space for our workshops and an increase in cost, it would be very helpful for members to sign up early enough for us to cancel if not enough students apply*. Also, please reach out to friends and other quilters to take advantage of the spectacular line up of teachers we have booked this season. You always learn something to improve you quilting! Remember, Empire Quilters is working for you!
*We must start on time as we will now pay by the hour. If you are late, you will miss the beginning instruction as we have to move on to cover the teacher's plan for the class.
Please note: For more information and the supply list for this workshop, please click on the "find out more" button.
Chungie Lee-Bojagi Techniques, A Complete Primer
Chungie Lee will teach you the basics and more of the delicate and intricate Bojagi-the Korean form of piecing and quilting. The fabrics created were often used as gift wraps. You can use yours any way you like.
Supply List
S
ewing machine
.
N
eedle
.
S
ewing thread in various colors
.
S
cissors (for paper and fabric)
.
F
itting pins
.
S
ilk or synthetic,
stiff, transparent organza type of fabric (preferably no patterned, mono tones, approx. 2-3 yards, and some color accent fabric)
.
Instructor will bring Korean transparent silk for optional purchase to be used in the class, an assortment of silk fabrics (to be able to make one silk bojagi) -
$
40 (for optional purchase).
Nancy Lee Chong-Hawaiian Applique
HAWAIIAN APPLIQUÉ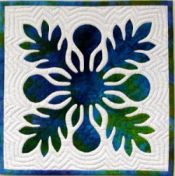 Teacher: Nancy Lee Chong
Hawaiian quilts look awesome in their symmetry and beauty, and yet are surprisingly easy to make. In this class you will have hands-on experience with cutting out a Hawaiian block, basting, and needleturn appliqué. Even though we work on a block in class, you will know everything you need to make a large Hawaiian quilt. This class is process-oriented, not product-oriented, so you will finish the day learning Nancy's stress-free needleturn appliqué techniques on a piece of "practice work." All experience levels welcome.
To see the supply list, please click "To Find Out More".