Gallery - November 2007 - Jane Broaddus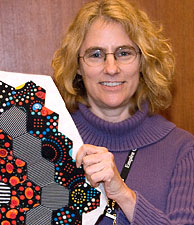 At age 16, Jane Broaddus learned how to quilt from her grandmother who taught her the English paper piecing technique. For many years, she made traditional quilts both by hand and machine. In 2005, Lisa Chipetine's class at The City Quilter opened her to the wide range of expression possible with the nontraditional techniques associated with art quilts. Now the quilt "sandwich" serves as her platform to create images from a variety of materials including paper, beads, threads, found objects, and all types of fabric.
In addition to being one of our valuable guild members, Jane is a member of Studio Art Quilt Associates, Quilters of Color Network of New York, Golden Stitches Quilters Guild (Georgia) and International Friendship Quilters. As an artist member of the Rubin Museum of Art in New York City, she participates in an embroidery group called "Auspicious Stitches," whose mission is to create needlework, appliqué and other fiber arts inspired by the RMA collection.
For the past two years, Jane has exhibited her work in the Quilters Alliance of New York trunk show via Mancuso Show Management. She has also exhibited her quilts, soft sculpture animals, and ceramics in galleries, civic art councils, and Brenau University Collaborative Arts in Georgia. Recently, her works have appeared in Quilting Arts and Quick Quilts magazines.
Jane's formal education is in science, culminating in a Ph.D. in forest pathology from North Carolina State University. Now retired, she worked as a Research Plant Pathologist for the USDA Forest Service and as a Professor of Biology for Brenau University.
Together with gulid member Ligaya Siachongco Jane has organized several fun challenges for our guild, including pin cushions, fabric pins and fabric postcards. We are so pleased that Jane showed the following pieces at her quilter of the month presentation!
Click on any image for more information, and a larger picture.
| | | |
| --- | --- | --- |
| Asian Jewel Box | Batik Flower Garden | Beach Party I Fabric Sampler |
| Chili Noir | Cosmic Cookie | Eye of God |
| Eye Shrine | Fabric Bead Doll | Fall Applique |
| Guard Doll #8 | Haku Frog | Jane's Mola |
| Log Cabin Block Exchange | Move It Along | Panic Attack |
| Pin Collection | Riddley Snort | Ruby Snort |
| Set Yourself Free | Summer Fans | The Missing Peace |
| They Eyes Have It | This Perfect Day | This Perfect Day |