Focus Groups
Focus groups generally meet in the mornings before the general meetings and are open to all members. They are wonderful opportunities to get to know your fellow guild members while you learn a new technique. We have many gifted quilters in the guild, and we are grateful that they are willing to share their expertise.
We are always open to new ideas and new groups, so please let us know if you wish to lead a focus group on any quilting-related topic. Contact Gretchen via info@empirequilters.net if you have questions or suggestions. Please put Fun with Fabrics in the subject line.

Past focus group topics have included Crazy Quilting, Fabric Postcards, Working With Silk, Quilted Tote Bags, Quilt-As-You-Go, Paper Piecing, Hand Quilting, Hand Appliqué, Embellishments, Color for Quilters, and Needle Felting — to list just a few.
---
Ongoing Focus Groups
Fun with Fabric
Gretchen Peaconck leads the Fun with Fabric Focus Group at 10:00am. June will be Playing with Fabric Collage. Please bring a small bag of small fabric scraps and scissors
We will be playing with collage using 5" by 8" cards.
Everything else will be provided. Everyone is welcome to stop by and check us out...you may even want to join us. See you then - Gretchen Peacock
Charity Coach and Chat
The Service Committee is looking for members willing to demonstrate basic and intermediate techniques for making quilts, stuffed animals, or other items we donate to the many charitable organizations we support.
Long-standing members: Please email the Service Committee at info@empirequilters.net and let her know if you would like to help by attending one or more of these Charity Coach and Chat sessions or to answer questions from newer quilters. The sessions will be held from 11:00am to 1:00pm, before our regular meetings.
Newer quilters: Make your charity quilts with us! By coming to these Charity Coach and Chat sessions, you'll learn all you need to know about making beautiful, useful charity quilts. During these sessions, you'll learn how to plan, cut, sew, and finish your charity quilt. And we'll also talk about making other items — like the holiday stockings and teddy bears.
The members who attended our monthly sessions this year not only learned how to make charity quilts, they picked up techniques they now use to make their own beautiful quilts.
This is open for all members and guests. We look forward to having a lively time with many people.
---
Elm Creek Quilt Blocks [ongoing focus group]
This popular focus group — based on the Elm Creek books by Jennifer Chiaverini — will continue during the 2018–2019 guild season at 12 noon.
Here is a link to past blocks for the Elm Creek Quilt Group if you want to catch up or if your notes are incomplete.
If you have any questions, contact Lisa Kehrle.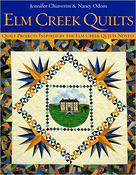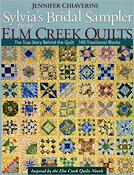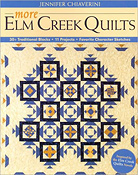 _________________________________________________________________________________
Drawstring Bag Instructions:
At a previous Coach and Chat, Lee Ebs did a demo about cloth bags: how to put them together and the suggested measurements. These are the bags we stuff with the Christmas donations for the shelters we support. The bags are great because they can be re-used for many purposes. The the supply list and the instructions are below:
Drawstring: 24" of shoelaces,
cord, grosgrain ribbon, etc.
Fabric: 18" square or 9 X
36" of any sturdy fabric. Measurement
need not be exact. If fabric is plain, embellish it with applique, embroidery, couching,
bobbin-work, rickrack, etc. Avoid beads,
sequins, anything glued on which may come off easily.
First Side: Back-tack, stitch 1¼ inch. Tie
off. Skip 1 inch. Back-tack then stitch remaining side seam.
Second seam (if using (9 X 36" fabric): Back-tack, stitch entire side seam, tie off.
Bottom: Back-tack, stitch entire bottom seam, tie off.
Top: Turn under ⅛", stitch.
(Can serge instead. Can skip this
step if using selvedge here.) Turn under
another inch and topstitch.
Drawstring: Use safety pin or other tool to pull through opening. Tie knot near each end of drawstring.
Finish: Halfway around from drawstring's opening, zigzag back & forth over it to
prevent string from pulling out.
These sessions are open to all members and guests.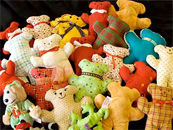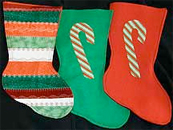 Previous Focus Groups
February 2018 :February's workshop is a winter scene.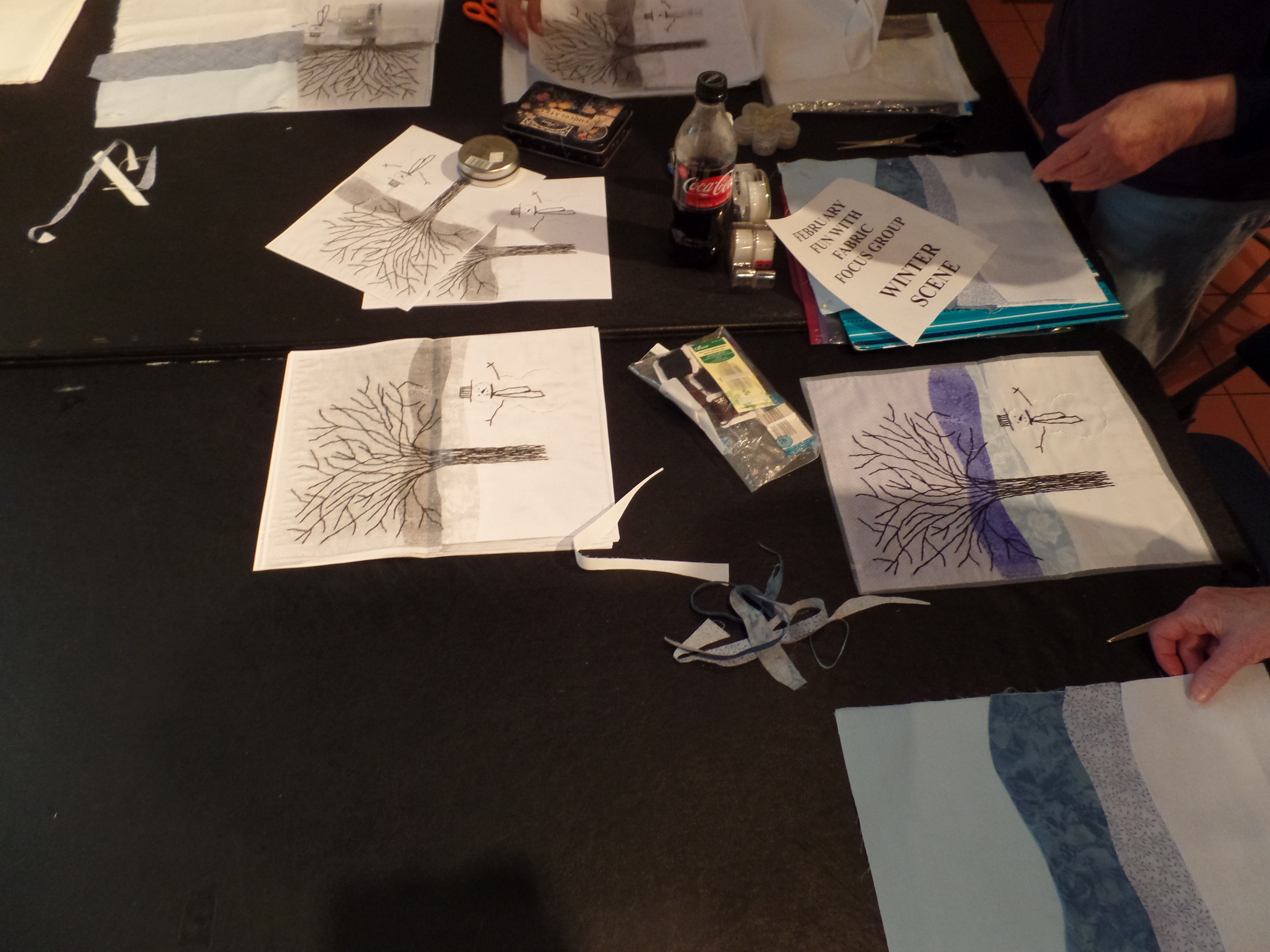 OCTOBER 2016: Weaving a Pumpkin Wall Hanging. Four fabrics for background, 2 pieces 12" by 8" and 2 pieces 10" by 8"). Four fabrics for the pumpkin (each piece 8" square).
For details of the focus groups that took place during previous seasons, visit the various Guild Archives pages.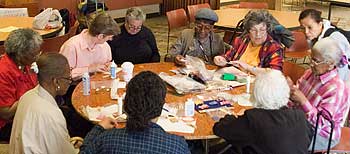 One of our focus groups hard at work.