Gallery - September 2006 - Diane Rode Schneck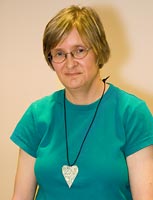 Diane Rode Schneckcomes from a long line of quilters and needleworkers — she owns family quilts made by her great grandmother, and her mother's aunt in the 1930s. She was born in Cleveland, Ohio, and moved to New York City in 1984.
Diane is largely self-taught and has been quilting since 1974. She started embroidering at about age six, learned to quilt in high school picking up hand quilting from the quilters at Grace Lutheran Church in Cleveland Hts. Ohio.
Although she doesn't know how many quilts she has made, Diane has tried just about everything in quilting! Her favorite types include: scrap quilts, string quilts, hand appliqué, crazy quilts, and humorous quilts. Diane's piecing is almost always by machine, but she does all of her embroidery, appliqué and quilting by hand. Currently she is most interested in appliqué, and mixed media work combining fabric and paper with stitchery.
A member of Empire Quilters since 1986, Diane has also taught in NYC since that time at various quilt stores and at the American Folk Art Museum. Diane currently teaches at The City Quilter and works part-time for Elder Craftsmen, coordinating crafts classes (including quilting) at senior centers all over New York City.
Diane lives on the upper east side in Yorkville, with two occasionally dysfunctional cats, Cookie and Jake and according to her, possesses "more fabric than anyone can imagine!"
Click on any image for more information, and a larger picture.
| | | |
| --- | --- | --- |
| A Diner Ode | Artist Trading Cards | Bull's Eye |
| Collector's Sampler | Crazy Quilt | Decorated Box |
| Embellished Shrine | Little Fans | Little Log Cabin in Amish Colors |
| Memory Book | Neon Coffee Project Number 1 | The Fire Inside |
| The Late Show | Great Grandmother's Quilt | |