Gallery - November 2008 - Lauren Dieterich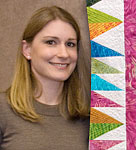 Lauren Dieterich was first drawn to quilting because she loved the geometry of traditional quilt blocks. She pieced her first quilt block in 1995, and has been an ardent quilter ever since. Lauren invests much of her quilting time in color and fabric selection. Her favorite part of the quilt-making process is machine piecing, although recently, Lauren has enjoyed experimenting with paper piecing and machine appliqué. One of her quilts, Indian Summer, won an Honorable Mention ribbon in the 2004 Mid-Atlantic Quilt Festival, and was featured in the May 2005 issue of Quilter's Newsletter. Lauren lives in Manhattan with her husband and her Beagle "Flash," who is quite the helper.
Click on any image for more information, and a larger picture.
| | | |
| --- | --- | --- |
| Applique Fun | Baby Blue | Baby Quilt I |
| Baby Quilt II | Baby Quilt III | Black & White = Gray, With Pink Accents |
| Bright Squares on Point | Captiva | Christmas Trees |
| Controlled Chaos | Cotton Candy | First Batik Quilt |
| First Quilt | Flannel Rag Quilt | Flower Fabric Sampler |
| Happy Daze | Indian Summer | Jungle Creatures |
| Laurel Birch Stripe Baby Quilt | Monsters (work in progress) | Navy Sampler |