UFO Day - January 14, 2006
Our UFO Day (Unfinished Object) was a lot of fun. We shared stories, swapped advice, and were even inspired to finish some of our pieces! Many of the works-in-progress that were displayed are beautiful, and we're looking forward to seeing the finished results. Thank you to everyone who participated in this special event, and thank you to Barbara Hull for organizing the day. Here are a few pictures of some of the pieces that were shown. We hope that many people were encouraged to finish their projects. Some of us got some great ideas, and went right home to start more projects! — not really such a bad thing.
---

Jennifer Bigelow (above, left) took home the prize for the Wierdest Item. Her piece showed a pair of feet on one side, and on the other side she had squares representing interesting cracks in the sidewalk. She encouraged all of us to look in our immediate environment for patterns to use in our work. We can't wait to see this one finished! Michael Greenberg easily won the Ugliest Fabric prize. He won this beauty on eBay (he says he bid on it for the templates!). Michael had several able and willing helpers – including Rhona Triggs (above, right) – display the never-to-be-finished partial pieces of his eBay double wedding ring quilt top.
---

Sandra Samaniego had the Wildest Item. She showed two pieces that had extensive use of crayon artwork. These pictures show the top and bottom of one piece, and the top of the second.
---

Sonia Rieber (above, left), took home the prize for the Funniest Story. She showed some blocks from a project she started in February 2001, and is still working on it! She claims she is "doing it wrong" –which is part of the trouble – but we also heard all she had to go through to get some ½-inch tape. Keep at it Sonia! The UFO seen in the middle is being made by Roberta Jacobs (which we think is lovely!), and the picture on the right is of a work-in-progress by Priscilla Blakemore. Priscilla is working on some Easy to Make Appliqué Pieces that she started six years ago. So far she has three (unfinished!) blocks.
---

June Calendar (above, left) bought this beautiful dragon motif material in Nepal. She worked painstakingly on embellishments for several months – until she realized that she was embellishing the wrong side of the fabric! (Oops!) And Agneta Noe (above center) can't finish this piece (above, right) because she says every time she starts working on it, it puts her to sleep!
---

Beth Pile (above, left) shared this amazing double wedding ring piece made from pre-1920s feedsack fabrics, and Mary Anne Ciccotelli (above right) was inspired to pull out this unfinished piece after hearing Carol Taylor's recent presentation about circles and spirals.
---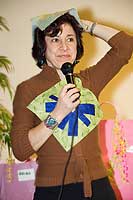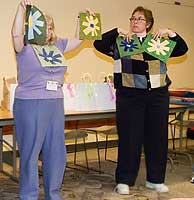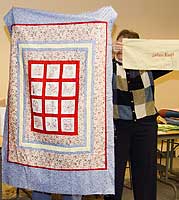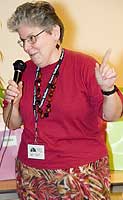 Benedicte Caneill (above, left with helpers) started these blocks in her second quilting classs. She was learning to use the rotary cutter and learning how to sew straight. Unfortunately, she didn't learn how to keep track of her pattern – which is lost! – so she can't finish this project until the pattern reappears. Tina Barth (above, right) purchased a UFO from a guild member's sale fo redwork. She had some old red thread from the 1960s that matched, so she completed the redwork and set it into a baby quilt. It needed something, so she decided to add a "simple" cross stitch name. Unfortunately, the name didn't end up in the right place and now she is desperate to finish this before a trip to see a new baby.
---

Jane Rosenthal started this piece when she was about 11 or 12 years old. She wanted to learn to sew, so she started a log cabin quilt by hand. She cut out pieces of old clothes and used samples from an interior decorating job – there's everything in this quilt from wool to uphostery fabric and shirting. Twenty-five years later – it's still a UFO! The piece above, right, belongs to Barbara Hull – another beautiful work-in-progress that we're anxious to see finished! Barbara received several suggestions about how to finish this.
---