Pinwheel Star: 10" finished (10½ unfinished)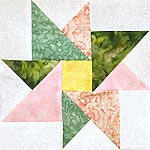 This block comes to us from the Fons and Porter 2005 Calendar where it was featured as a single block as well as showing an entire quilt made from the block. Directions are as follows:
You can use either four different colors (as I have) or two different colors if you choose. Please make these pastels and also use a yellow square for the center and white for the background.
The yellow center square is cut 2½" x 2½".
The small A colored triangles are made from 5¼" x 5¼" squares cut twice diagonally.
The small white A triangles are made the same way - by cutting a 5¼" x 5¼" square twice diagonally.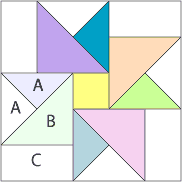 The large half-square triangles (B) are made by cutting a 4-7/8" x 4-7/8" square diagonally.
The white rectangles (C) measure 2½" x 4½".
Assemble the block as shown.



— Leila Lieberman
To download these instructions in .pdf format, ››CLICK HERE.