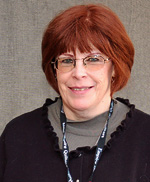 Service Report: 2009 -2010
The guild's annual 2009–2010 Charity Work Day took place March 13, 2010. Members began working at approximately 9:00 in the morning, and worked throughout the day to see how many quilts could be produced in one day. It was a fun and rewarding experience. If you missed this meeting, please plan to join us next year.
›› Pictures of the 2009-2010 Finished Quilts ‹‹
If you have any questions about the Service activities of Empire Quilters, please direct them to the Service Committee: info@empirequilters.net.
— Denise Walsh Horowitz
Chair, Service Committee
---
December 2009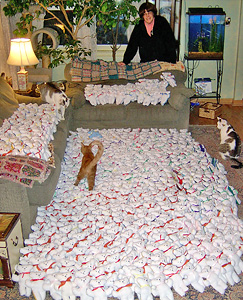 Posted Dec 28, 2009 – Much of the thanks for our charitable activies goes to Denise Walsh Horowitz, the incredibly decicated and hard-working Chair of the guild's Service Committee.
In the picture at left Denise (and her three supervising cats!) pose with some of the over 700 stuffed teddy bears that Denise makes each year for needy children in the New York City area. Denise is an inspiration and it is a pleasure helping her in her mission of helping others. Thank you, Denise!
Denise, in turn, extends her thanks to the members of Empire Quilters for their very kind contributions of teddy bears, stockings, stuffed animals, toys, toiletries, hats, scarfs, mittens/gloves, socks, games, cards, coloring books, crayons, quilts, and draw string bags at the December guild meeting. She was able to make up 238 stockings with a teddy bear or a stuffed toy; 8 prefilled stockings (by two of our members) 26 stockings with coloring books and crayons, 55 stockings for teens and moms with toiletries, goodie bags with toiletries, two very large bags for grab bags with toys and games, and 32 sets of earrings which will be distributed to the moms for the holidays. Kitty Squire bought a wagon full of cookies, candy, drinks and other treats for the kids as well.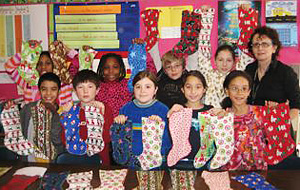 Another big Thank You! goes to Susan Knaster's 4th grade sewing group. The students worked hard to make holiday stockings to give to children less fortunate than themsleves. They worked for hours and hours, and contributed many colorful hand-made (love-filled!) stockings to Empire Quilters' Christmas project. Class participants are pictured here with their contributions.
Here is just a sampling of this year's holiday gifts collected in December: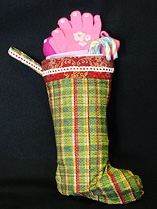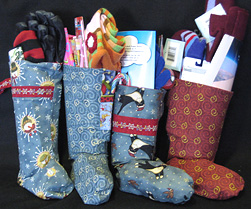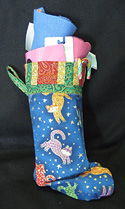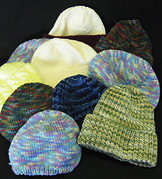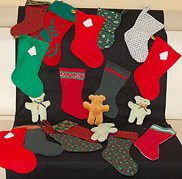 Photos by Jennifer Bigelow and Shirley Clark
We thank the following members for their holiday contributions (if your name is not here, please let us know at the January meeting): Jane Adler, Floraminda Balmaseda, Catherine Bancroft, Tina Barth, Helen Beall, Shirley Beckwith, Betty Belford, Jennifer Bigelow, Anne Blachley, Alice Brody, Alison Burmeister, Mary Butler, Sandra Cain, Paula Cruz, Pat Decker, May Eason, Lee Ebs, Mary Ferry, Verna Fitzgerald, Kathy Francos, JoAnn Gatch, Marge Geary, Mary Gillette, Brenda Gold, Michael Greenberg, Diane Harris, Pauline Hazard, Joan Hellman, Melanie Hill, Andrea Homer-MacDonald, Sandi Howell, Sylvia Hughes, Barbara Hull, Felicia Ingram, Judy Isaacs, Kate Iscol, Jan Jenicek, Gloria Johnson, Maudelyn Johnson, Golda Kantor, Joan Kedziora, Margaret Kelly, Paula Kenney, Judy Klein, Susan Knaster (and students!), Marilyn Korn, Cynthia Kulakoff, Susan Louis, Marilyn Lutzker, Ulla McCarthy, Peggy McGeary, Jean Moccio, Sheila Molitz, Karen Monath, Meghan Nutre, Alice Palmer, Cathy Peterson, Martha Phillips, Beth Pile, Trudy Raeburn, Janet Randolph, Rena Rappaport, Wilma Reid, Lea Williams Rose, Diane Rubenstein, Allison Ruggiero, Sandra Samaniego, Diane Rode Schneck, Marcia Schulman, Naomi Shelnut, Kitty Squire, Andrea Tebesceff, Rhona Triggs, Charlotte Vetta, Denise Walsh-Horowitz, and Mary White. The December meeting is one of our most important events of the year and makes the holiday season very special for so many kids and parents. I appreciate everyone's efforts in taking your time to make something special and from your heart for a child.
Charities Supported by Empire Quilters
Throughout the year quilts and other service projects are delivered to the following organizations by Empire Quilters. To view the current list of organizations supported by the guild, vist the main Service Page.
Empire Quilters Corporate Sponsors
The following companies are generous supporters of Empire Quilters. We appreciate their contributions, and their donations of fabric, services and supplies. Every donation helps our guild produce quilts for those in need, and helps us further the art of quiltmaking in our community.
If you or your company would like support Empire Quilters in its mission of providing quilts for charities, and in furthing the art of quiltmaking in our community, please contact info@empirequilters.net. We will welcome your participation!
Empire Quilters also thanks its newsletter advertisers. Our current advertisers are listed on the Regional Resources page. If you or your company would like to advertise in our monthly newsletter, please contact info@empirequilters.net. The newsletter is sent to all of our guild members — and is a great way to reach the active quilters in the greater Metropolitan area.