Exciting News!

We're building a new website! This page is currently under construction. We will resume frequent updates in early 2012. Stay tuned! …
Membership Benefits
The Guild membership yearly fee is $55 (all ages). Benefits of membership include:
entry to 10 monthly meetings (September to June)
opportunity to show your work at meetings
eligibility to take part in focus groups
eligibility to enter the biennial show
eligibility to participate in Block of the Month
discounts on guild bus trips
guild newsletter
discounts at local quilt shops
use the lending library of books, magazines and videos
eligibility to participate in guild sponsored charitable quilting work
Membership Application
Contact the guild at info@empirequilters.net if you wish to receive a membership application form via regular mail.
The membership application can also be downloaded and printed on your home computer. The form is in PDF format.
›› Membership Form (PDF format) ‹‹
Complete the application, and mail it to the address listed on the form. Enlose a check for your membership fee payable to Empire Quilters.
Be sure to introduce yourself to us as a new member at the next guild meeting. You're sure to be warmly greeted!

The membership application is a PDF file, and requires Adobe Acrobat Reader. If you need Adobe Acrobat, you can download it free from Adobe by clicking their icon:
Guild Events and Activities
In addition to our monthly meetings (see the next section for complete information on our meetings), our active guild has something for everyone! Members can participate in the following events and activities:
Block of the Month
Each month, quilt block pattern instructions for the month ahead are published on the guild's Block of the Month Blog. Participation is voluntary but offers a fun way to learn a new technique. Block makers compete in a drawing to win all the blocks — usually enough to make a quilt!
Bus Trips
During the year, Empire Quilters plans bus trips to shop out of town and/or visit shows. Space is lmited, so watch the Newsletter, or check the Notices page for details.
Classified Ads
Have a sewing machine, a quilting frame or a pound of fabric you'd like to unload? Members are invited to place a free, needle-art-related classified ad in the Newsletter. Ads can be no longer than 30 words and the EQ member name and phone number must appear in the ad. The Newsletter publishes a maximum of three consecutive listings.
Focus Groups
Focus groups are open to all guild members. Led by members who have an interest in sharing their knowledge about particular techniques, the groups meet for a limited number of sessions and usually result in a finished project. The techniques offered throughout the year depend on the volunteers who teach. The Newsletter lists the current groups along with numbers of group leaders, so that you can call with any questions you have. New groups are formed throughout the year. Each class is subject to space and free of charge, but you'll need to supply any required materials.
Guild Show
Approximately every two years, the guild sponsors a members-only quilt show with challenge quilts, vendors, lectures, workshops, demonstrations and a member-made fundraising quilt.
Library
Empire Quilters maintans a collection of books for members to borrow. We attempt to keep the library stocked with the most current quilt books as well as a number of classics. Donations of books (in good condition) are welcome. There is no fee to borrow but there is a $1 a month late fee.
Newsletter
The monthly Newsletter is emailed to members prior to each meeting. It contains a message from the president, information about upcoming meetings and projects, information about shows (including ours!), competitions, volunteering opportunities, as well as updates on focus groups, programs, bus trips and lots more. Empire Quilters encourages members to write articles about qult related subjects — even to toot their own horn if they've taken part in a show — and to send them to the Editor: newsletter@empirequilters.net
Guild members may opt to receive their monthly newsletter via first class mail by paying a mailing fee with their membership dues.
The newsletter is also available on the website for members to download. You will find that downloadable version on the Newsletter page.
Montly Fundraisers
Empire Quilters holds a monthly mini fundraiser each meeting. Tickets, sold for $1, offer a chance to win prizes, usually fabrics, patterns or other useful quilting donated items from members. The Montly Fundraising Committee accepts donated prizes at the Fundraising table.
Scrap Table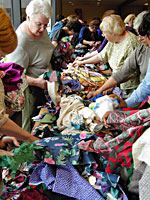 This is another Empire Quilters fund-raising activity. Each month, members bring in donations of fabrics, trimmings, patterns and such for the Scrap Table. When you have selected your scraps, a member of the committee will set the price. Scrappers are required to donate at least 25¢ per scrap to the pot. (Bills are glady accepted!)

Service Projects
Empire Quilters are encouraged to contribute their time and expertise to charity projects. These might include volunteering time to teach quilting to special groups or to make items to be given to various organizations — hospitals, preemie units, nursing homes. Presently, quilts of several sizes and other items are brought to the Charity Committee for distribution. This committee maintains a table at each meeting. Preemie qults must be 16"x24" quilted and the minimum size for others is 36"x36" quilted or tied.
Please visit the Service page of this site for many ideas of projects to make.
Once a year, Empire Quilters devotes a meeting to charity work — usually in March. March is National Quilting Month, and Empire Quilters celebrates by completing as many quilts as possible in a day. This is a good opportunity to clean out your stash and donate those tops you've been meaning to finish. It is also a good time to make new friends and learn new tips from the experts. Sewing machines, irons and boards, and tapestry needles with yarn are the tools of the day. We assemble, quilt or tie, and distribute these quilts to those organizations on our list that in turn hand them to those in need. We encourage members to tell us of organizations in need of quilts. We also need members willing to deliver them.
Show & Tell
Members display their completed works, heirloom items, unique purchases or other items of interest or seek advice about a work-in-progress from the audience. Since we have a large, active group, we ask that you consider time constraints when showing your items.
Sunshine Committee
The Sunshine Committee sends a member who has been seriously ill or hospitalized, who has lost a loved one, or who has been in a bad accident, some "sunshine" in the form of a card from the guild. If you know of a member who needs some sunshine, let this committee know by filling in the member's name and, if appropriate, the hospital name and address on the clipboard at the Check-in table.
Vendor-of-the-Month
Most months, a different vendor comes to the meeting with special wares, usually fabrics, notions, and books. Vendors contribute a portion of their sales to Empire Quilters' coffers, so keep shopping!
Volunteering
A guild, especially of our size, is only as good as its volunteers. Throughout the year, there are many volunteering opportunities. Some tasks (like selling prize tickets or helping with the meeting activities) can be performed during the meeting while others (like the newsletter and programs) require several hours during the month. Committee heads are listed on the last page of the Newsletter. Give them a call if you can lend a hand. (Calls for volunteers also appear in the Newsletter.)
Guild Meetings
Monthly meetings take place at the Church of the Holy Apostles, 296 Ninth Ave (@28th St), New York, NY 10001 [ Map ]
Note that prior to the 2011–2012 guild season, meetings took place at Fashion Insitite of Technology (F.I.T.). We had a great time at F.I.T., but we outgrew the space! We are grateful to everyone at F.I.T. for the many fabulous years, and are excited about our new venue at the Church of the Holy Apostles.
We welcome all new members to the monthly meetings of the Empire Quilters Guild. We have become a very large organization and, although it may seem confusing at times, there is some order and structure to our monthly meetings. For the most part, guild meetings take place on the second Saturday of every month from 1:00 pm to 5:00 pm, from September to June. This allows time for the business meeting, a special program or exhibit, and an opportunity to quilt with friends or learn new techniques in one of our Focus Groups. Many members arrive early to meet friends, shop with the Vendor-of-the-Month or just get comfortable. Since meetings usually start on time, coming early is an advantage. Changes in the schedule or location are announced in the Newsletter and on the Home page of the website.
There are many events that occur during the meeting that are important to know about. Here is your personally guided tour to an Empire Quilters guild meeting.
1. If you are a registered member, you will find your name and address on the sign-in sheet at the Membership/Check-in table. Each member needs to sign in before finding a seat. Since your listing is the same as your mailing label, it's a good idea to check for any errors. Please make sure that we have your apartment number, correct zip code and current email address. At check-in time, if you have Show & Tell items, complete the Show & Tell form. The Membership/Check-in table is the place to ask questions — don't be shy!
2. Find a seat and catch your breath! Then take your donations to the Monthly Fundraiser, put your scraps, old patterns, etc. on the Scrap Table, shop with the Vendor-of-the-Month, visit the Library and drop off magazine donations. Perhaps you made a Block of the Month (BOM) from the pattern posted on the BOM blog. If so, turn it in at the space reserved for BOM's and fill out your name on a slip of paper for each block that you made. Monthly fundraising tickets also go on sale until the drawing. $1 buys you a chance to win some great stuff and helps keep the guild's kitty filled to pay for our many service projects. Visit friends, make new ones, look around until the meeting begins.
3. At 1:00 pm the President calls the meeting to order. The agenda includes announcements, reports from officers and any of the administrative details involved in maintaining a not-for-profit guild. Members and guests are then given the opportunity to make announcements or share information. As a large group, we ask that all attendees listen and do not talk during the business meeting. It's often difficult to hear the speakers (and it's rude, besides!). The business meeting is relatively short unless there is a hot topic to discuss or debate.
4. Usually after the business discussion, a Guest Speaker will demonstrate unique techniques, experiences and/or products. Every effort is made to feature well-known quilters or fiber artists as well as noted Empire professionals.
5. After the speaker it's time for what might well be the most popular part of the meeting — Show & Tell! Here members present their completed works (usually quilts or quilted clothing), herilooms, unique purchases or other items of interest. This time is often used to show a work-in-progress and seek advice or suggestions from the audience. Volunteers photograph each item presented for the guild website. See the Show & Tell page to see past Show & Tells.
6. Next the Block-of-the-Month display is noted and the winner-take-all drawing is held from among the participants. See the Block of the Month page for samples of past blocks of the month.
7. Now comes the last-minute scramble to purchase Fundraising Prize tickets before the drawing. Winning tickets are drawn until all items are distributed.
8. The Scrap Table opens after all other meeting features have ended. You can purchase scraps and patterns for as little as 25¢. Generally, the announcement signals a free-for-all. Empire encourages donations. Often quilts shown are made entirely from Scrap Table finds!
9. If afternoon focus groups are scheduled, attendees now divide into Focus Groups that continue until the end of the day (approximately 4:30 or 5:00 pm). A list of the month's focus groups appears in the Newsletter, and on the Focus Groups page of the website. Here's your chance to learn a new skill, perfect an old one, or, better yet, share you skills with other members. However, you are free to use this time to quilt with friends, ask questions, and re-visit the Vendor-of-the-Month.
---
As you can see, meetings are busy and fun. Please join us!