Dyckman Farmhouse Museum Quilt Project - 2007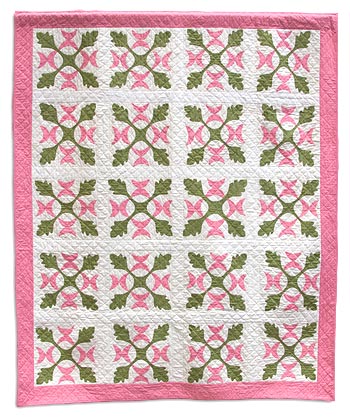 The collaboration between Empire Quilters and the Dyckman Farmhouse Museum has been wonderful for both organizations, and for the many visitors to the museum. The guild reproduced a quilt for the museum. The museum's quilt is old, faded and torn. Guild members have been working on the project for about a year — hunting for appropriate fabric, lining up volunteers to work on the blocks, and doing the cutting, appliquéing, assembling and quilting.
The finished quilt was proudly displayed at our November 10, 2007 guild meeting, and was turned over to the museum a few days later. The finished quilt is pictured here (right).
The project was featured in an article on About.com and also appeared in Quilt Almanac 2008.
Thanks are due to the project organizer, guild member Mary Butler and to the group of guild members who worked so tirelessly on the project. They are pictured below.
---
On Sunday, October 21, 2007 a group of quilters worked on the quilt on the porch of the museum. Below are some pictures from that fun event.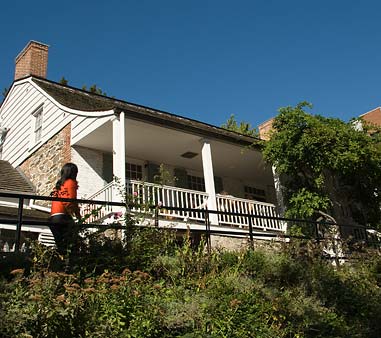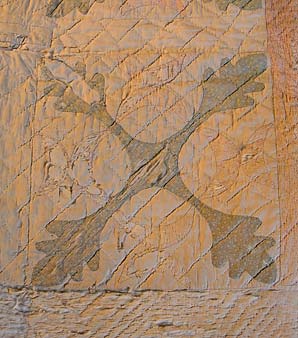 Above: a view of the porch of the Dyckman Farmhouse Museum, and a block of the original quilt.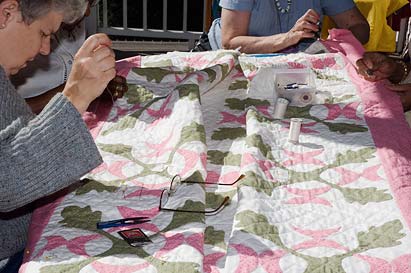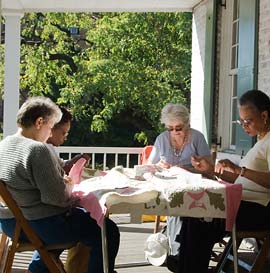 It was a beautiful day to sit on the porch and work on the quilt.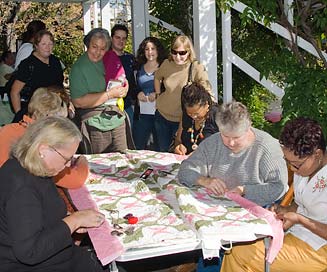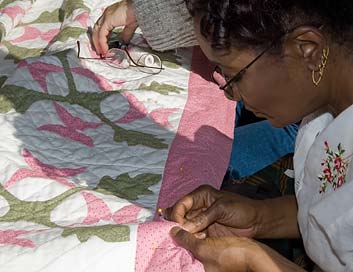 Museum visitors stopped by throughout the day to observe the project.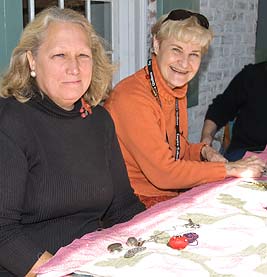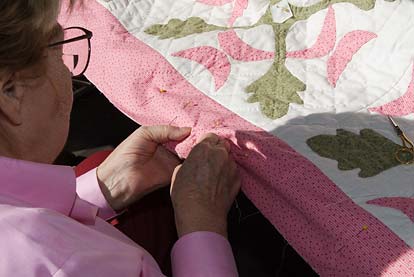 Pleased project leaders Judith Hoffman Corwin and Mary Butler are pictured above (left).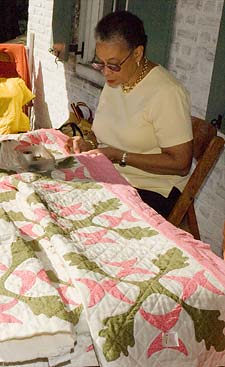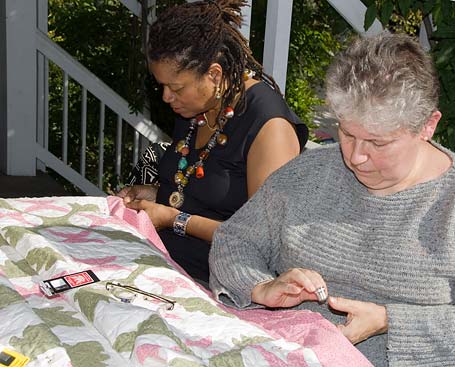 Above, L to R: Rhona Triggs, Jacquelynn Jones and Tina Barth all hard at work.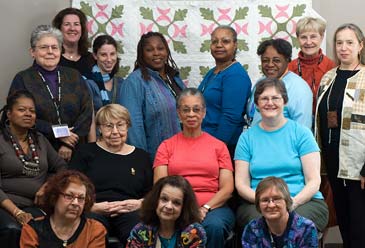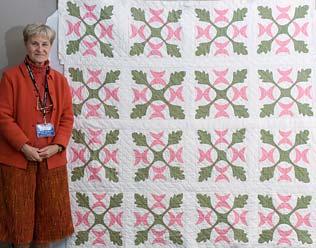 October 13, 2007: Above, Left: A group of project participants gathered for a photo with the work-in-progress. Back Row: Tina Barth, Linda Lee Kelly, Julie Detar, Diane Pryor-Holland, Diane Collier, Freida Hoyett, Mary Butler and Sandra Cain. Middle Row: Jackquelynn Jones, Jean Wirth, Rhona Triggs, Joan Goodsell. Front Row: Emily Kainberg, Pamela Wexler, Diane Rode Schneck. Missing: Judith Hoffman Corwin, Juliana Kaloo, Elizabeth Burpee, Sara Niego.
---
To learn more about the Dyckman Farmhouse Museum, visit their website: www.dyckmanfarmhouse.org or — better yet! — visit the museum, which is located on Broadway at 204th Street in Manhattan. It is a true gem of a museum.