Christmas Service Projects – December 2007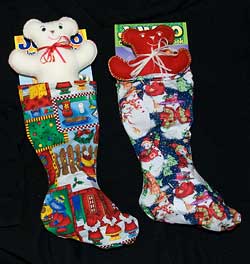 At our December 8, 2007 guild meeting, we collected hand-made Christmas stockings and items to fill the stockings. These will be distributed to area domestic violence shelters in the Greater New York City area. We couldn't let the holidays go by without doing our part to help bring a little bit of cheer to those who are suffering. Our members were creative and generous and we're pleased to report that we collected 236 Christmas stockings, 143 bears, 29 pairs of gloves, 10 pairs of socks, 13 hats, and many additional assorted toys, stuffed animals, dolls, crayons, and personal hygiene products.
Below is a sampling of the various items collected. Thank you to all the members who participated! Look for their names at the bottom of this page.
---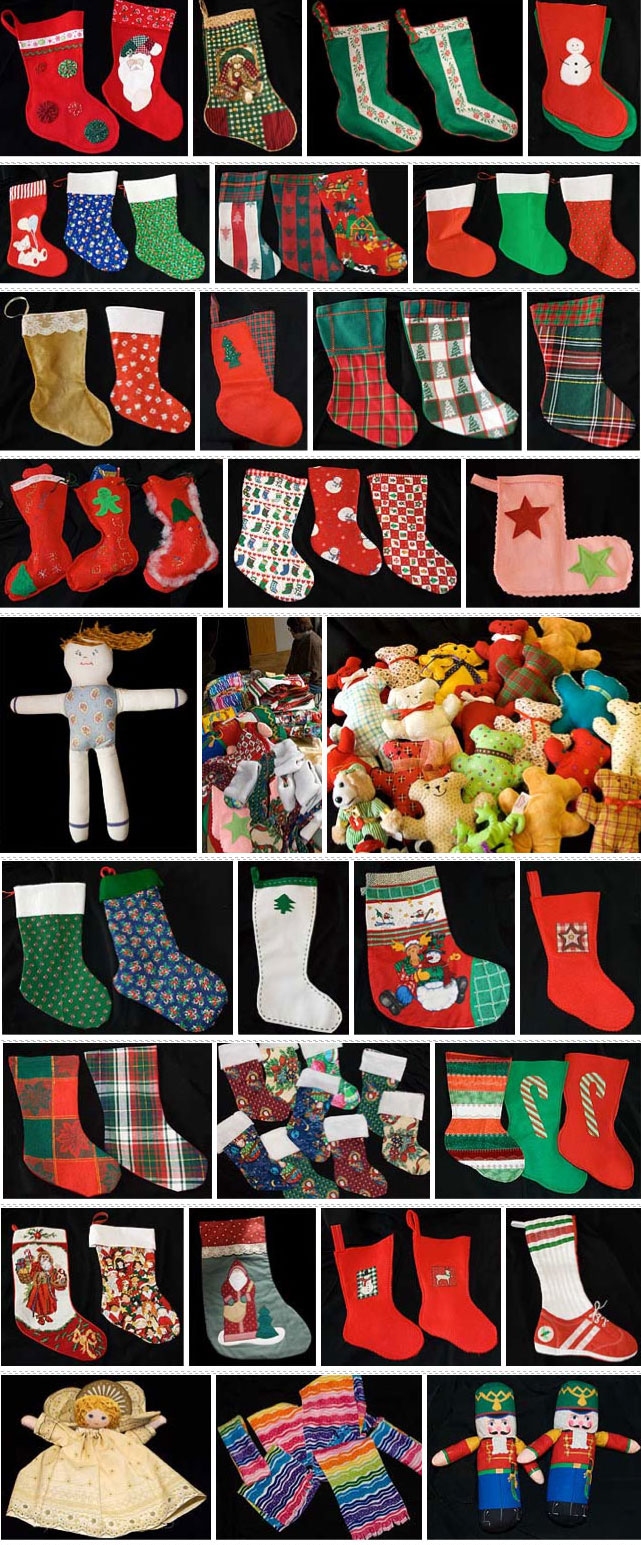 ---
A big Thank You! to the following members who contributed to this meaningful and important project:
Elizabeth Adorno,

6 Christmas stockings

Floraminda Balmaseda,

bears, Christmas stockings and book marks

Helen Beall,

6 Christmas stockings, 20 toys

Jennifer Bigelow,

Christmas stockings, teddy bears, hats, scarfs, head bands

Priscilla Blakemore,

Christmas stocking stuffers

Alice Brody,

teddy bear

Sherry Brown,

4 toiletry cases stuffed and 3 knitted hats

Viola Brown,

Christmas stockings and stuffers

Mary Butler,

3 Christmas stockings, and stocking stuffers

Carmen Caldeiro,

4 Christmas stockings and 3 teddy bears

Betty Chen,

4 sock monkeys, 2 stuffed toys, and many stuffers.

Shirley Clark,

1 Christmas stocking

Diane Collier,

14 premie hats

Janice Comerford,

2 teddy bears

Alicia Cruz,

Christmas stocking stuffers

Fanny D'Avino,

12 baby hats

Pat Decker,

Christmas stocking stuffers

Loren Dieterich,

1 stocking

Mary Eason,

Christmas stocking stuffers

Laura Fandino-Swedowsky,

1 Christmas stocking and 1 bear

Anna Faustino,

stuffed animal

Mary Ferry,

3 quilts

Barbara Fridie,

3 Christmas stockings and stuffers

Marge Geary,

4 teddy bears, and 27 Christmas stockings

Larry Gifford,

Christmas stocking stuffers

Joan Goodsell,

2 Christmas stockings and stuffers

Carol Gray,

12 Christmas stockings, teddy bears and baby dolls

Nancy Gulisano,

Christmas stocking stuffers,

Janina Hannum,

1 Christmas stocking, 2 lambs

Diane Harris,

Christmas stocking stuffers

Alicia Hart,

2 Christmas stockings

Carole Hoffman,

10 Christmas stockings with stuffers

Linora Hoffman,

Christmas stocking stuffers

Sandi Howell,

1 Christmas stocking and stuffers

Barbara Hull,

6 Christmas stockings and stuffers

Felicia Ingram,

2 Christmas stockings and stuffers

Kate Iscol,

Christmas stocking, bears, stocking stuffers, toys

Paula Kenney,

Christmas stockings, teddy bears and stocking stuffers,

Marilyn Korn,

1 teddy bear and 1 quilt

Eve Lee,

1 quilt

Clarie Leffel,

10 Christmas stockings with stuffers

Emma Leffel,

10 Christmas stockings with stuffers

Gail Lefton,

Christmas stocking stuffers

Marilyn Lutzker,

5 stockings, 1 quilt top, 2 teddy bears

Ulla Britta McCarthy,

Christmas stockings

Veronique Milliez,

2 teddy bears

Karen Monath,

5 Christmas stockings, 6 teddy bears

Gardy Nadler,

Christmas stockings and stuffers

Sara Niego,

Christmas stocking stuffers

Blanca Noval,

3 Christmas stockings

Alice Palmer,

1 Christmas stocking and stuffers

Diane Paul,

10 Christmas stockings, 2 fabric books, 2 Nutcracker Dolls, 1 Angel Doll

Beth Pile,

Christmas stockings, bears, stocking stuffers, 5 baby hats

Janet Randolph,

3 Christmas stockings

Rina Rappaport,

Christmas stocking stuffers

Sonia Rieber,

Christmas stockings and stuffers

Rita Reid,

3 teddy bears

Lea Williams Rose,

1 Christmas stocking

Diane Rubenstein,

1 teddy bear, 4 teddy bear blankets, 4 Christmas stockings

Sandra Samaniego,

Christmas stocking stuffers

Gail Sanders,

teddy bears

Winifred Sanders,

4 teddy bears

Diane Rode Schneck,

1 teddy bear

Naomi Shelnut,

4 Christmas stockings

Ligaya Siachongco,

4 Christmas stockings

Anna Sinitsyna,

2 Christmas stockings, pens

Nancy Spatafora,

2 Christmas stockings and 8 teddy bears

Kitty Squire,

25 Christmas stockings, stocking stuffers, and lots and lots and lots of teddy bears

Susan Stauber,

1 quilt

Sandy Syken,

7 quilts, 46 baby hats, 2 Christmas stockings

Lucy Torres,

Christmas stocking and bears

Ann Townley,

Christmas stockings and stuffers

Denise Walsh-Horowitz,

10 Christmas stockings, 10 teddy bears,

Pam Leonard Wexler,

3 quilts

Mary White,

1 Christmas stocking and teddy bear