2009 Elm Creek Sampler Focus Group
The Elm Creek Sampler Club Focus Group, led by guild member Helen Beall began meeting in September 2009. Group members meet before the general guild meetings at F.I.T. to share and discuss the creation of blocks Elm Creek Blocks. from Jennifer Chiaverini and Nancy Odom's book, Elm Creek Quilts: Quilt Projects Inspired by the Elm Creek Quilts Novels(C&T Publishing, Inc. 2002). Group members make new friends, work on a common project, support and inspir each other — and shared their tips and their finished blocks.
Here are some of their terrific results!


---
Finished Quilts
Congratulations to all the group members who have finished quilts and quilt tops! The variety of individual expression within our quilting tradition is truly wonderful. Those of us who didn't participate, loved seeing the results of their work.
Here are the blocks that appeared month by month:
---
September 2009 –
Sawtooth Star Block
---

October 2009 –
Double 9-patch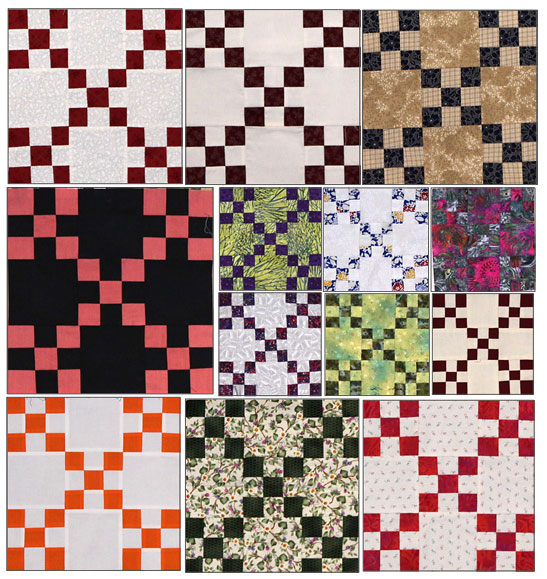 ---

November 2009 –
Contrary Wife
---

November 2009 –
Schoolhouse
---

December 2009 –
Lemoyne Star
---

December 2009 –
Bachelor's Puzzle
---

January 2010 –
Posies-Round-the-Square
---

February 2010 –
Lancaster Rose
---

February 2010 –
Sister's Choice
---

March/April 2010 –
Hand's All Around
---

March/April 2010 –
Ohio Star
---

May 2010 –
Chimneys and Cornerstones