President's Message
Happy Spring, Quilters! Surely spring is truly here, no more snow till November at the earliest.
Congratulations on a terrific Quilt Show! We put on a great show with a wide variety of wonderful quilts, had a lot of fun, and it looks like we even made some profit. Hooray for Empire Quilters! And thanks to our ShowGirls, to all volunteers who worked before/during/after the show, plus of course thanks to all who entered quilts. If you didn't finish your quilt in time for the show, please do finish it and bring it for Show and Tell.
At our April board meeting we voted to raise our annual dues to $60 for the 2017-2018 program year and to raise the additional charge for having printed copies mailed to you to $10. It's been several years since we raised our dues, and of course our rent, insurance, and other budget items cost more now than they used to.
At our May meeting we will elect officers and other board members for positions which become open at the end of the June meeting. We invite all current and incoming board members to attend the June board meeting. Of course, as usual, all guild members are welcome to attend any board meeting.
May will be another busy month. Northern Star Quilters' Show is May 6th and May 7th. May 1 is also May Day. May 5 is Mexico's independence day. May 6 is Kentucky Derby Day. Empire meets May 13. Mothers Day is May 14. Ramadan starts on May 27, and Shavuot begins on May 31. Memorial Day is May 29.
We're still hoping some members will volunteer to sing or play musical instruments at our December party. There's plenty of time to think about it, figure something out, and practice.
Workshops
June Workshop : Michelle Renee Hiatt-Diamonds in the Sky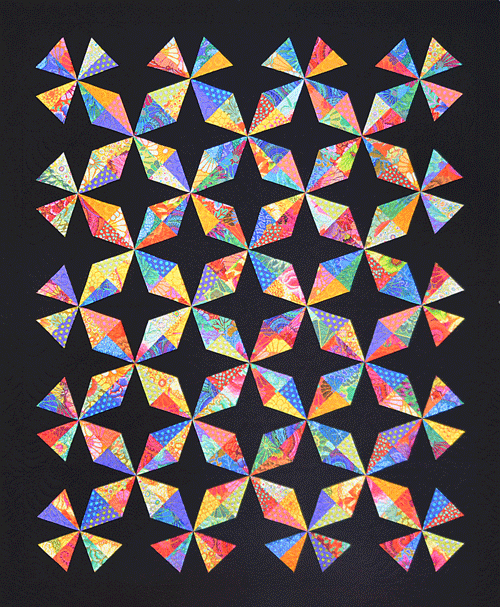 Michelle designed this dazzling quilt for Modern 180 Designs. With Diamonds in the Sky, you'll create brilliant 4 piece Diamonds that radiate, plus a beautiful alternating block to give this quilt dimension and allow it to shine! Use Fat Quarters, 6" strips or scraps. For that high contrast. shimmery look, use assorted bright fabrics for your Diamonds and a dark or light background.
Included are tips on how to use Deb Tucker's Corner Beam™ as well as how to match points, piece on-point quilts, strip piecing techniques, and general machine piecing hints.
Sunday June 11, 2017 520 Eighth Avenue Room 319
(between 36 & 37 Sts) 10 AM to 4 PM Fee $65 ($75 for non-members)
For details head to the Workshops page.



Guild Business Meeting: 1:00 p.m.

Saturday

June 10th,2017

Location: Church of the Holy Apostles

296 Ninth Ave (@ 28th St)
New York, NY 10001 (Map)

Please join us! Meetings are free for new members.

Guest Fee $10
Meeting events and activities:
Ongoing Focus Groups: Up The Creek Quilters & Charity Coach and Chat 11:00 am: Focus Groups

Focus Group - 10:30 am

Creating With Mosaics.

For details go to

Focus Groups
Board Meeting: 11:00 am – 12:00 pm. Guild members are welcome to attend
General Meeting: 1:00 pm – 4:00 p.m.
Program: Michelle Renee Hiatt
Block of the Month: Paper Piecing - Beginnners Block by Carol Doak Block of the Month
Fabric Swap: Blues and/or Nautical
Quilter of the Month: tba
Share Table: Yes
Show & Tell: Yes
Library: Yes
Vendor: Empire Quilters
Some exciting trips are in the works make sure to click here for the latest Notices such as information about upcoming trips, and where to see guild members exhibiting quilts locally. Have something you'd like to add? Send it to us!
Check in with us via social networking. We want to hear from you!
Facebook: https://www.facebook.com/empirequilters
Instagram: https://instagram.com/empirequilters
Twitter: https://twitter.com/empirequilters
THE SWAP RETURNS - HERE IS WHAT TO DO TO GET 42 DIFFERENT FABRICS EACH MONTH.
Choose either a color or a design from the monthly list and find 6 fabrics of that color or design.
Cut a 6 inch wide strip across each of the fabrics. Then cut each strip into 7 squares.
Sort the 42 total squares into 7 sets containing one square of each fabric.
Put a set of fabrics in each of 6 letter sized envelopes and seal. (Hold the 7th set at home.)
PRINT your first and last name on each envelope and either the color or the design you chose.
Put a rubber band around your set of envelopes.
At the beginning of meeting, register with the swap domo and pass in your envelopes.
At the end of the meeting, pick up your swapped envelopes. You will be returned envelopes from 6 different people. The envelopes contain 36 different fabrics, plus the 6 you left at home makes 42 different fabrics total.
WHY DO YOU EVEN CONSIDER CHARM PACKS WHEN THERE IS A SWAP AVAILABLE AT YOUR MEETING?
2017 List
June Blues Nautical