President's Message
With the holidays behind us I wish all of us to approach the
New Year with hope, optimism and good cheer.
Count Down to the Show -- 85 days.
We should all look forward to an exciting show, our first show since 2011.
Time promises to move quickly so finish your show entry and enter it into one of the many categories.
(deadline for entry January meeting or via mail postmarked January 31, 2015.)
Plan to enter the "Presidents Challenge". Joann plans to return to do the judging for this category.
Sell tickets for the magnificent raffle quilt.
Volunteer for one of the many jobs needed to make the show a success.
Talk up the show to everyone you know.
The show is an effort for the entire guild to show off the wonderful work that All the members
are capable of doing. It is our time to "pat our own backs" and "toot our own horns".
Let's do just that in a grand NYC way!!!
You and your families have my very best wishes for the New Year.
Sincerely,
Peggy McGeary, President Empire Quilt Guild
Workshops
January Workshop
Esterita Austin "Sheers for You"



Guild Business Meeting: 1:00 p.m.

Saturday, February 14 , 2015


Location: Church of the Holy Apostles
296 Ninth Ave (@ 28th St)
New York, NY 10001 (Map)

Please join us! Meetings are free for guild members.

Guest Fee $10
Meeting events and activities:
Ongoing Focus Groups: Elm Creek Quilt Blocks 12:00-1:00(details on the Focus Groups page) and Charity Coach and Chat-11:00-1:00.
Board Meeting: 11:00 am – 12:00 pm. Guild members are welcome to attend
General Meeting: 1:00 pm – 4:00 p.m.
Program: Members Teaching Members
Block of the Month: Cheerio Empire BOM
Meeting Activities:
Share Table: Yes
Show & Tell: Yes
Library: Yes
MEMBERS TEACHING MEMBERS
We have a terrific group of workshops lined up for this year's Members Teaching Members Workshop.
Cheryl Kulakoff will share her techniques for "Creating Embroidery from Photographs". Annie Foss will be teaching "Foundation Pieced Log Cabin". Mary Butler will be doing a "Serger and Tissue Holder" demonstration. Renee Fields will demonstrate "How To Make a Tie Quilt". Andrea Deal will lead "Pleats and Folds" a fabric manipulation class. Nancy Rabatin will going over "Basic Embroidery Stitches".
Below are descriptions of each of the workshops along with photos and supply lists for each of them. As usual, we will have the business meeting, show and tell, block of the month and the share table before the workshops so you will be able to enjoy the workshops without any interruptions.
You can sign up ahead of time by emailing Kitty Squire at info@empirequilters.net or you can sign up when you get to the February meeting. Classes are limited to 25 unless otherwise noted.
CREATING EMBROIDERY FROM PHOTOGRAPHS : Cheryl Kulakoff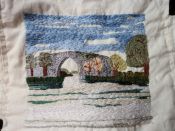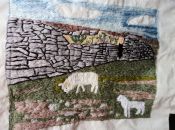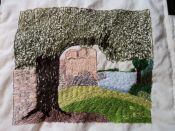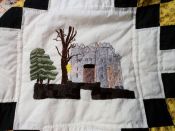 This workshop will focus on the techniques of translating a photograph into an embroidery design. Through demonstration and discussion Cheryl will go through the steps of creating an embroidery design. She will use the embroidery in the photo to the left above to teach some stitches.
First she will show how to choose a photograph to use that has good contrast. Then she will discuss how to get a design onto the fabric square either by using tracing paper to transfer the outline of the photo onto the fabric square or by drawing freehand.
The third topic to be considered will be how to get different effects of texture on the fabric by using different stitches, colors or threads. If time permits, we might be able to practice a few stitches on some sample squares.
Supplies: Paper and pen to take notes, Simple sewing kit including any color embroidery floss, embroidery needle (if available), and scissors. Cheryl will supply a small muslin square to practice stitches. She will also bring embroidery needles and threads.
SERGER PRESENTATION AND TISSUE HOLDER DEMONSTRATION: Mary Butler
Mary will be demonstrating how to use a serger to make a tissue holder. No need to bring anything except pen and paper. If you want to practice making the tissue holder, bring a set fo fabrics cut to the following: 3 Cuts of 5.5" x 3.75" and 2 Cuts of 3.5" x 3.75" for each unit.
FABRIC FOUNDATION LOG CABIN-MINIATURE: Annie Foss-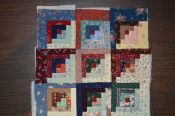 Originally taught by Diane Rode Schneck-25 years ago to the entire Empire Guild.
Annie will teach how to make a log cabin miniature block using fabric foundation piecing. This technique is addictive, like buying fabric.
Supply List; Sewing Kit including scissors, needle thread, paper and pen, light and dark fabrics-scraps as no piece is larger than 1" by 5". Muslin for foundation base-6" square. Annie will supply some bases to work with as well.
BASIC EMBROIDERY STITCHES: Nancy Rabatin-
Nancy will demonstrate basic embroidery stitches and show you some of her wonderful embroideries.
Supply List: Paper and pen, sewing kit including small scissors and embroidery needles, embroidery floss, muslin or other base fabric.
SILK TIE QUILT: Renee Fields CLASS LIMITED TO 20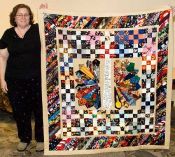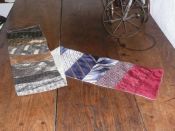 Marty's Tie Quilt Tie Scarf
Want to add another type of fabric to your quilt repertoire? Need to do something about all those ugly ties hanging in HIS closet that he never wears anymore? Be not afraid anymore-Learn how to tame silk and polyester fabrics and use men's ties to add a new dimension to your quilts! This will be a hands-on class with hand sewing.
Supply list: 1 or 2 men's ties-silk or polyester or blend, seam ripper, scissors, needle and thread (black or another dark color), pins
PLEATS AND FOLDS: Andrea Deal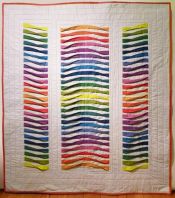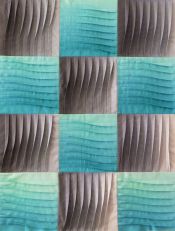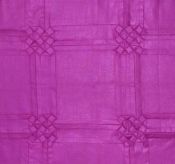 Colorful Pleats Pleated Gradation Shadow Square
Add some dimensional texture to your quilts and accessories with simple pleating techniques. Andrea will bring samples and demonstrate a range of techniques, from the most basic pleating to intricate folds and twists. Even the most complex patterns are easier than they look!
Supply List: Hand sewing needle and thread, scissors, marking pencil/pen, ruler, folder/presser (optional), piee of cotton fabric roughly fat quarter size.