President's Message
The show was superior!!
The artistry and workmanship of the quilts were excellent. I would to thank the show chairs, Larry Gifford and Lisa Kehrle for their superior organizational skills, their time and their endless energy.
Also a huge "thank you" goes out to all of you who worked under them. A short list includes: Tina Barth, Mary Butler, Beth Pile, Lee Ebbs, Aleeda Crawley, Betsy Vinegrad. Kitty Squire, Michael Greenberg, Janice Ewing and to Jennifer Bigelow, Mary Cargill & the others who produced a superior raffle quilt.
Also many thanks to the husbands, neighbors and friends who chipped in for the set-up & take-down.
I would also like to thank Joann Gatch for her year & a half of input that she contributed before moving to Vermont. We miss her & wish her well. We have proved that we have a solid group of knowledgeable, committed, artistic members and we should be very proud of our accomplishments.
Coming up--Our election of new officers.

Peggy McGeary, President
Empire Quilt Guild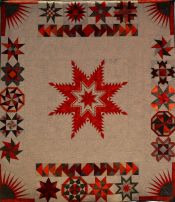 Workshops
Workshop
May - No Workshop in May



Guild Business Meeting: 1:00 p.m.

Saturday, May 9 , 2015


Location: Church of the Holy Apostles
296 Ninth Ave (@ 28th St)
New York, NY 10001 (Map)

Please join us! Meetings are free for guild members.

Guest Fee $10
Meeting events and activities:
Ongoing Focus Groups: Elm Creek Quilt Blocks 12:00-1:00(details on the Focus Groups page) and Charity Coach and Chat-11:00-1:00.
Board Meeting: 11:00 am – 12:00 pm. Guild members are welcome to attend
General Meeting: 1:00 pm – 4:00 p.m.
Program: Lori Triplet - Celebrating the Blues - History of Indigo and Trunk Show
Block of the Month: April: Retro One Patch Empire BOM
Meeting Activities:
Share Table: Yes
Show & Tell: Yes
Library: Yes
2015 Show Vendors
Click here for a list of 2015 show vendors
2015 Post Show Survey
Greetings from your 2017 show co-chairs!
The planning for our next show started the day after our 2015 show closed. We're hoping that we can bring everyone along for the ride. The first step is to ask you for some information about the show, while it is still fresh in your mind.
To be a part of the survey, please click on this link, or enter the following address in your browser:
http://svy.mk/1FILr8f
. The survey consists of ten short questions, and should take no more than 3-5 minutes to complete. The more responses we get, the more information we'll have. If you receive your newsletter by email, you may have a duplicate copy of the survey enclosed if you completed one at the meeting. You do not need to submit a second survey.
The most important question, for us, is the last one: Are you willing to work on the 2017 show? By filling in your name, you are saying: Yes, I want a show and I'll do what I can to help. By omitting your name, you are implying you're not sure you want a show in 2017, and trust me, we are listening. While everyone cannot contribute the same effort, everyone can contribute something. Two people cannot produce a show; even for twenty people it's asking a lot. Together, we believe we can do it, and we will be counting (and calling) on you! You'll be hearing from us regularly, online, in the newsletter and in person. 2015 Show comments should appear on the survey so we can report back to you in a future article.
If you have suggestions, comments or donations, please send them to
eqgshow@gmail.com
, and please include what you can/plan/hope to do to help.
We thank you for the opportunity to begin this grand adventure!
Aleeda Crawley & Betsy Vinegrad