President's Message
NOVEMBER
Our meeting was very exciting, with Kitty's presence an added bonus. Paula Nadelstern gave a great presentation with slides and the story of how she fought a rug company when it copied her creative designs. She brought stunning quilts from her new book "Simple Quilts, Complex Fabrics: FABRICADBRA - Discover the Hidden Potential in your Stash".
Show and Tell was wonderful as always, with many beautiful quilts made by our members. Block of the Month had a good turnout. Barbara Fridie, Quilter of the Month, wowed us with a wide variety of wonderful quilts.
We auctioned off a gorgeous green, red, and white Hawaiian appliqué quilt. Our Members Market was a success, with many interesting and irresistible items tempting us.
DECEMBER
Happy holidays, Winter Solstice, Hanukkah, Christmas, Kwanzaa, and New Years Eve.
We'll have our annual Holiday Party. Highlights include our Chinese auction of Baskets and a live auction of three lovely quilts to raise money for the 2017 Show. Please bring food (home-made or store-bought) for the Bake Sale. We may even have a musical surprise.
During the meeting we will also be assembling holiday stockings for younger children and drawstring bags for older kids to be distributed to various charities throughout the area. All items must be new. Food must be individually wrapped so it can be given out at the shelters' holiday parties, not included in any stockings or drawstring bags. The committee will also accept cash for this project. Remember, many of these kids won't receive any other gifts.
Some good items to fill the stockings include mittens, hats, scarves, coloring and activity books, crayons, small toys (like matchbox cars) and stuffed animals, puzzles, stickers, barrettes and scrunchies, pacifiers, bibs, and whatever else you think would make younger children happy.
Some good items for drawstring bags include toiletries (in ziploc bags, please), mittens, gloves, scarves, hats, socks, puzzle books, playing cards, pens and pencils, writing pads, combs and hairbrushes, barrettes and scrunchies, and any other things to make older kids happy.
We could really use more stockings. Right now we don't have very many, so if you can make some, please do.
Thanks
Kitty and Lee
Workshops
No workshop in December



Guild Business Meeting: 1:00 p.m.

Saturday

December 10, 2016

Location: Church of the Holy Apostles
296 Ninth Ave (@ 28th St)
New York, NY 10001 (Map)

Please join us! Meetings are free for new members.

Guest Fee $10
Meeting events and activities:
Ongoing Focus Groups: Up The Creek Quilters & Charity Coach and Chat: Focus Groups

Focus Group - Hand Paper Piecing a Snowflake Rug Mug: 10:30 am
Board Meeting: 11:00 am – 12:00 pm. Guild members are welcome to attend
General Meeting: 1:00 pm – 4:00 p.m.
Program: Charity Basket Auction
Block of the Month: No Block of the Month for December
Fabric Swap: Metallic and/or Polka Dots
Quilter of the Month: tba
Share Table: No
Show & Tell: Yes
Library: No
Vendor: No
Check in with us via social networking. We want to hear from you!
Facebook: https://www.facebook.com/empirequilters
Instagram: https://instagram.com/empirequilters
Twitter: https://twitter.com/empirequilters
New to our guild? The guest fee is now $10! Please join us!
Some exciting trips are in the works make sure to click here for the latest Notices such as information about upcoming trips, and where to see guild members exhibiting quilts locally. Have something you'd like to add? Send it to us!
Charity Reminder
We will prepare stockings and drawstring bags during the December meeting. Please bring them as well as items to put inside.
2017 Show Quilt - "35 and Counting"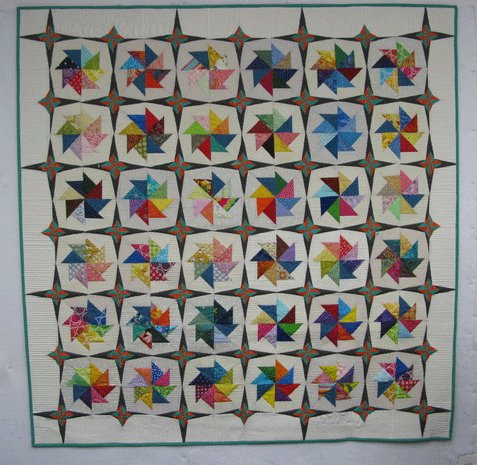 Raffle tickets are now available.
If you're a member who didn't pick up your packet at the November meeting, please get it at the December meeting.
THE SWAP RETURNS - HERE IS WHAT TO DO TO GET 42 DIFFERENT FABRICS EACH MONTH.
Choose either a color or a design from the monthly list and find 6 fabrics of that color or design.
Cut a 6 inch wide strip across each of the fabrics. Then cut each strip into 7 squares.
Sort the 42 total squares into 7 sets containing one square of each fabric.
Put a set of fabrics in each of 6 letter sized envelopes and seal. (Hold the 7th set at home.)
PRINT your first and last name on each envelope and either the color or the design you chose.
Put a rubber band around your set of envelopes.
At the beginning of meeting, register with the swap domo and pass in your envelopes.
At the end of the meeting, pick up your swapped envelopes. You will be returned envelopes from 6 different people. The envelopes contain 36 different fabrics, plus the 6 you left at home makes 42 different fabrics total.
WHY DO YOU EVEN CONSIDER CHARM PACKS WHEN THERE IS A SWAP AVAILABLE AT YOUR MEETING?
2016 - 2017 List
Dec Metallic Pokka Dots
Jan Tans Hearts
Feb Reds Japanese Prints
Mar Purple Paisley
Apr Aqua/Turk/Teal Flowers
May Yellows Black & White
Jun Blues Nautical