President's Message
In March, we'll have our annual Charity Quilt-a-thon. Also that day is when you need to bring in quilts to be judged for the Show. Charity Day is always a big day for Empire and then for the people who receive our quilts. If you want to distribute quilts to an organization, please let Cheryl Kulakoff know early that day, even though quilts are not divvied up until later in the afternoon. If you want to add a new recipient organization to our list, please tell them to send us an email or letter including their official name, address, and 501c3 number, contact person with phone number and email address, and tell us who (categories not individual names) and how many people they serve, and who at Empire is their contact (you). This request must be in before the March meeting in order for you to get quilts for them.
If you haven't already volunteered for one of the open positions, please consider doing so. Contact Jennifer Bigelow, Michael Greenberg, or Larry Gifford to see which are still available. To make Empire even better, get involved.
We are excited to have the opportunity to show our raffle quilt and sell tickets at the Mancuso Quilt and Sewing Fest of New Jersey, March 2-5, 2017. We are looking for volunteers for all four days of the show, Thursday through Sunday, particularly Thursday and Friday.
Last year we exhibited our Urban Rainbow quilts at the Mancuso show. It's an excellent chance to see a mix of national quilt exhibits and selections from local guilds. Several of our members will also have quilts in the show. Please volunteer for a day, or even half a day, to share our beautiful raffle quilt and raise some funds for the guild. The show takes place at the Garden State Exhibit Center in Somerset, NJ. For those without a car, the exhibit center is near the Bound Brook New Jersey Transit train station. Taxis are usually available at the station & we may be able to arrange a pickup for you.
Please see the show link below for more information about workshops and exhibits at the Mancuso show.

| | |
| --- | --- |
| | www.quiltfest.com |

To volunteer your time, please contact us at eqgshow@gmail.com or info@empirequilters.net. I was at the show last year selling tickets and it was a terrific experience. Please consider volunteering your time for this.
Workshops
April Workshop - TWO TONE TWISTER with Erin Underwood
Sunday April 9, 2017 520 Eighth Avenue Room 319
(between 36 & 37 Sts) 10 AM to 4 PM Fee $65 ($75 for non-members)



Guild Business Meeting: 1:00 p.m.

Saturday

March 11,2017

Location: Church of the Holy Apostles

296 Ninth Ave (@ 28th St)
New York, NY 10001 (Map)

Please join us! Meetings are free for new members.

No Guest Fee!
Meeting events and activities:
Ongoing Focus Groups: Up The Creek Quilters & Charity Coach and Chat: Focus Groups

Focus Group - Will return in April with

Embellishments!

Board Meeting: 11:00 am – 12:00 pm. Guild members are welcome to attend
General Meeting: 1:00 pm – 4:00 p.m.
Program: Charity Day
Block of the Month: Will return in April Block of the Month
Fabric Swap: Purple and Paisley
Quilter of the Month:
Share Table: Yes
Show & Tell: Yes
Library: No
Vendor:

Charity Day
Our 2017 Quilt Show is just around the corner please click

here

to submit your entries. Volunteers are needed as well!
The Next QUILT COMMITTEE Call Meeting is Monday March 6th
CLICK HERE FOR DETAILS
Check in with us via social networking. We want to hear from you!
Facebook: https://www.facebook.com/empirequilters
Instagram: https://instagram.com/empirequilters
Twitter: https://twitter.com/empirequilters
New to our guild? The guest fee is now $10! Please join us!
Some exciting trips are in the works make sure to click here for the latest Notices such as information about upcoming trips, and where to see guild members exhibiting quilts locally. Have something you'd like to add? Send it to us!
2017 Show Quilt - "35 and Counting"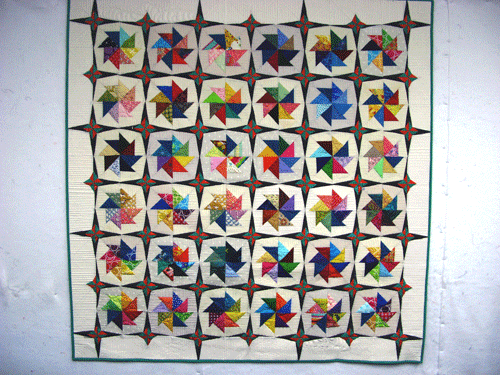 Raffle tickets are now available.
If you're a member who didn't pick up your packet at the November meeting, please get it at the January meeting.
THE SWAP RETURNS - HERE IS WHAT TO DO TO GET 42 DIFFERENT FABRICS EACH MONTH.
Choose either a color or a design from the monthly list and find 6 fabrics of that color or design.
Cut a 6 inch wide strip across each of the fabrics. Then cut each strip into 7 squares.
Sort the 42 total squares into 7 sets containing one square of each fabric.
Put a set of fabrics in each of 6 letter sized envelopes and seal. (Hold the 7th set at home.)
PRINT your first and last name on each envelope and either the color or the design you chose.
Put a rubber band around your set of envelopes.
At the beginning of meeting, register with the swap domo and pass in your envelopes.
At the end of the meeting, pick up your swapped envelopes. You will be returned envelopes from 6 different people. The envelopes contain 36 different fabrics, plus the 6 you left at home makes 42 different fabrics total.
WHY DO YOU EVEN CONSIDER CHARM PACKS WHEN THERE IS A SWAP AVAILABLE AT YOUR MEETING?
2017 List
Mar Purple Paisley
Apr Aqua/Turquoise/Teal Flowers
May Yellows Black & White
Jun Blues Nautical