President's Message
I am writing this, my final President's message, to let all of you know that I will be relocating to Santa Fe, New Mexico later this month. This move originally was to take place within the next two years. My husband's health has continued to deteriorate, and we were given a wonderful opportunity to leave now, and move to a lovely place where a great apartment became available.
I will miss many of the wonderful things Empire had to offer and hope to find a Guild in Santa Fe where I will be comfortable. I have many fond memories to keep me centered when the going gets tough and I long for the familiarity of our guild.
I wish the new officers my very best-they know I am just a phone call away should they need some assistance. I am confident that a great slate of officers is in place and the guild will continue to flourish. Hopefully there will be a quilt show in two years so I can return and enjoy being
an awed onlooker!
Till then, my best
Paula Kenney, President
Charity Quilting Night at the City Quilter
: Nancy Rabatin has agreed again to host a charity quilting night. We cannot express our gratitude enough to Nancy and to Cathy and Dale for supporting our charity work. If you have time, please join use on
Saturday June 1, from 5:30 to 9:00
. Please bring a charity project to work on (at this time I don't have any donated tops). Bring your basic sewing supplies – remember we get to use the machines and the classroom – the rest is up to each of us.
Workshops
Karen Eckmeier's Lets Make Waves
Sunday, June 9, 2013 10:00 am to 4:00 p.m.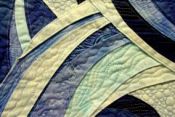 Let's Make Waves is a 6 hour technique workshop with Karen Eckmeier. It is time to play with fabric in this terrific technique workshop. So grab your rotary cutters and let's loosen up by cutting wild curves and dramatic angles! Learn to "go with the flow" and find out how relaxing free-form cutting and layered topstitching can be! Karen will show you how to use your Layered Waves fabric in traditional and contemporary quilts, impressive borders, eye-catching wearables , background for applique and much, much more!



Guild Business Meeting: 1:00 p.m.

Saturday, June 8, 2012

Location: Church of the Holy Apostles
296 Ninth Ave (@ 28th St)
New York, NY 10001 (Map)

Please join us! Meetings are free for guild members.

Guests are welcome for $10.00 fee this month
Meeting events and activities:

Ongoing Focus Groups: Elm Creek Quilt Blocks 12:00-1:00(details on the Focus Groups page) and Charity Coach and Chat-11:00-1:00.
Focus Group:10:30-11:30 am-No Focus Group due to Flea Market
Board Meeting: 11:00 am – 12:00 pm. Guild members are welcome to attend
General Meeting: 1:00 pm – 4:00 p.m.
Program: Oops, My Edges are Showing
Speaker: Karen Eckmeier
Quilter of the Month: None
Vendor of the Month:

Semi Annual Flea Market. This month the Guild will have a table as well, so bring your small, gently used items to donate to the Guild-and bring you change. There are great deals to be found. In addition, there will a UFO Swap. So bring your UFOs to trade for ones that appeal to you more.

Block of the Month: French Macarons
Meeting Activies: Flea Market. UFO Swap. Ongoing focus groups. Library. Raffles. There will be no share table in June.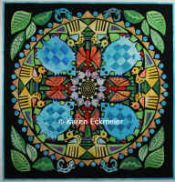 oops! My Edges are showing!
Karen Eckmeier's presentation will definitely give you some ideas on where to find inspiration and how to deal with the scary edges encountered as you do straight stitch applique or raw-edge collage. No matter what you call it, the edges of the fabric are bound to fray. From early hand applique pieces, up to her current straight-edge stitch applique series, Karen has shown dealt with these and will share her methods.