President's Message
In just a few weeks the 2015 show is upon us.
I would like to take this time to thank the show committee for their expertise & commitment, who worked tirelessly for the past 2 years planning every detail. Also, I would like to thank the members who stepped up to the plate & volunteered to work with the committee chairs. Without this effort the show could not happen.
I would also like to thank all those who have entered a quilt into the show. For many of us, patting ourselves on the back is difficult, but now is the time to do so. We are a creative, artistic group and this is our time to show our talent to all who come to view our work.
On March 28 and 29th bring your friends and family and enjoy the quilts adorning the hall. Support the vendors & take advantage of their show specials and visit the boutique for one-of-a kind items.
Vote for your favorite quilt.
Above all, Have Fun.

Peggy McGeary, President
Empire Quilt Guild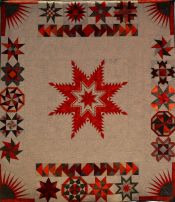 URBAN INSPIRATIONS QUILT SHOW 2015
UNDER A NEW STAR
Fashion Institute of Technology (FIT)
Seventh Avenue @ 28th Street, New York
Saturday, March 28, 2015 10A – 6P and
Sunday, March 29, 2015 10A to 4P
Over 200 Quilts on Display Plus Vendors.
Entry is $10 per person, $18 for the two days.
A discount of 10% applies to groups of 5 or more.
Contact EQgroupsales@gmail.com
SPECIAL PROGRAMS
Saturday, March 28, 2015 at 11AM
Sunday, March 29, 2015 at 2PM
Collecting Quilts: How and Why
Famed collectible quilter and designer,
Paula Nadlestern, will moderate panelists:
• Roderick Kiracofe, collector and author of Unconventional and Unexpected.
• Amelia Peck, Curator of the Textile Division, the Metropolitan Museum of New York (Saturday at 11 am).
• Sue Reich, noted collector, curator and quilt appraiser (Sunday at 2pm).
• Elizabeth Warren, Curator of the acclaimed Red and White Quilt Show featuring the quilts of collector Joanna Rose.
Saturday, March 28, 2015 at 2PM
Sunday, March 29, 2015 at 11AM
BARBARA BRACKMAN
Quilt Patterns: Trends, Fads & Regionalism
Barbara Brackman, author of several well-known references on patterns and fabric history, will discuss quilt patterns over the past 200 years. Patchwork fashions---like hairstyles and wallpaper--- become the rage and then fade. She will track how patterns have circled around and how some have become a few fads in quilt history.
Workshops
Workshop
No March Workshop



Guild Business Meeting: 1:00 p.m.

Saturday, April 11 , 2015


Location: Church of the Holy Apostles
296 Ninth Ave (@ 28th St)
New York, NY 10001 (Map)

Please join us! Meetings are free for guild members.

Guest Fee $10
Meeting events and activities:
Ongoing Focus Groups: Elm Creek Quilt Blocks 12:00-1:00(details on the Focus Groups page) and Charity Coach and Chat-11:00-1:00.
Board Meeting: 11:00 am – 12:00 pm. Guild members are welcome to attend
General Meeting: 1:00 pm – 4:00 p.m.
Program: Charity Day and Show Quilt Judging
Block of the Month: No Block in March Empire BOM
Meeting Activities:
Share Table: No
Show & Tell: No
Library: No
IMPORTANT DETAILS FOR SET-UP DAY
On Friday, March 27th - Show Set-up Day Please bring your quilt to FIT for hanging at the show the hours of 9A and 10AM. Please make sure that you have the following:
• Each quilt you are submitting in its own pillowcase with the title of the quilt, the quilter's name, phone and/or email address on the quilt label AND the pillowcase. This includes the President's Challenge.
• Each quilt you are submitting should have a four inch sleeve sewn on the back of the quilt.
2015 Show Vendors
Click here for a list of 2015 show vendors