President's Message
Our Charity Day was a huge success! Over 50 quilts went directly to charitible organizations on the day and more to come. Thanks to everyone who participated!
Empire Quilters cordially invites you to join us as we celebrate 35 years of fabulous fiber fun!
Empire Quilters Urban Inspirations 2017 - Jade & Coral Show
Celebrating 35 years!
Saturday April 1st 10 am - 6 pm and Sunday April 2nd 10 am - 4 pm

Jade and Coral are the gems used to celebrate 35th anniversaries.
We'll have raffles, vendors, and of course, beautiful quilts. We hope you can join in our celebration!
You can purchase tickets either at the door for $10.00 or online HERE for a small fee.
We will be raffling off our beautiful quilt, 35 and Counting (seen below) on Sunday afternoon at 3:45 pm along with a Bernina Bernette London 3 courtesy of Sew Right Sewing Machines. The raffle tickets for these prizes are $1.
You do not have to be present to win either prize!
In addition, we will be hosting an Adopt-A-Quilt table where we will be raffling off handmade mini quilts suitable for display, dolls, placemats and mugs as well as various other quilt related items. Tickets are $1.00 each. The raffle drawings for these prizes are scheduled for noon, 2 pm, and 4 pm on Saturday and at noon and 2 pm Sunday.
You have to be present to win these items. Be sure to visit our table to see all the items available.

Keep on quilting!
Workshops
April Workshop - TWO TONE TWISTER with Erin Underwood
Sunday April 9, 2017 520 Eighth Avenue Room 319
(between 36 & 37 Sts) 10 AM to 4 PM Fee $65 ($75 for non-members)
For details head to the Workshops page.



Guild Business Meeting: 1:00 p.m.

Saturday

April 8th,2017

Location: Church of the Holy Apostles

296 Ninth Ave (@ 28th St)
New York, NY 10001 (Map)

Please join us! Meetings are free for new members.

Guest Fee $10
Meeting events and activities:
Ongoing Focus Groups: Up The Creek Quilters & Charity Coach and Chat: Focus Groups

Focus Group - Embellishments! Focus Groups
Board Meeting: 11:00 am – 12:00 pm. Guild members are welcome to attend
General Meeting: 1:00 pm – 4:00 p.m.
Program: Erin Underwood Trunk Show!
Block of the Month: April Block of the Month
Fabric Swap: Aqua/Turquoise/Teal and Flowers
Quilter of the Month: No
Share Table: Yes
Show & Tell: Yes
Library: Yes
Vendor: Blue Hen Quilts
SPREAD THE WORD ON SOCIAL MEDIA - LINK
For a list of Vendors, Quilt Submission Form and all the information you need.
2017 Show Quilt - "35 and Counting"
APRIL 1st & 2nd 2017 @ FIT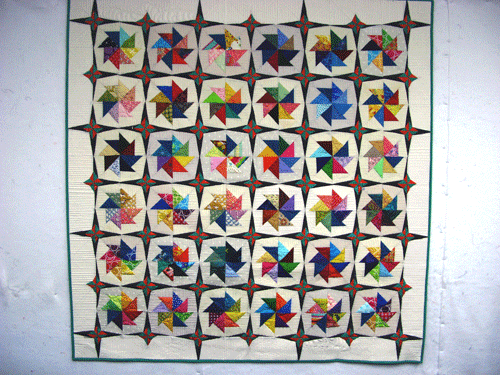 Raffle tickets are now available.
Some exciting trips are in the works make sure to click here for the latest Notices such as information about upcoming trips, and where to see guild members exhibiting quilts locally. Have something you'd like to add? Send it to us!
Check in with us via social networking. We want to hear from you!
Facebook: https://www.facebook.com/empirequilters
Instagram: https://instagram.com/empirequilters
Twitter: https://twitter.com/empirequilters
New to our guild? The guest fee is now $10! Please join us!
THE SWAP RETURNS - HERE IS WHAT TO DO TO GET 42 DIFFERENT FABRICS EACH MONTH.
Choose either a color or a design from the monthly list and find 6 fabrics of that color or design.
Cut a 6 inch wide strip across each of the fabrics. Then cut each strip into 7 squares.
Sort the 42 total squares into 7 sets containing one square of each fabric.
Put a set of fabrics in each of 6 letter sized envelopes and seal. (Hold the 7th set at home.)
PRINT your first and last name on each envelope and either the color or the design you chose.
Put a rubber band around your set of envelopes.
At the beginning of meeting, register with the swap domo and pass in your envelopes.
At the end of the meeting, pick up your swapped envelopes. You will be returned envelopes from 6 different people. The envelopes contain 36 different fabrics, plus the 6 you left at home makes 42 different fabrics total.
WHY DO YOU EVEN CONSIDER CHARM PACKS WHEN THERE IS A SWAP AVAILABLE AT YOUR MEETING?
2017 List
Apr Aqua/Turquoise/Teal Flowers
May Yellows Black & White
Jun Blues Nautical