2011 Show Special Events
Featured Speakers
We were delighted to host the following very special artists. Their presentations added excitement to our show!
---
Saturday, March 26, 2011: Lisa Shepard Stewart
Contemporary Designs from Traditional African Textiles
Lisa Shepard Stewart is an award-winning writer and designer based in New Jersey. In her books, African Accents: Fabrics and Crafts to Decorate Your Home; Global Expressions: Decorating with Fabrics from Around the World; and On the Go! Designing Accessories with Cultural Style, Lisa encourages others to create with culturally relevant techniques and materials. She offers classes and special events around the country and internationally, and travels to Ghana to source artists, fabrics and materials. Lisa produces Quilter's Retreats at a holistic spa in Negril, Jamaica, and her first Textile and Craft Tour of Ghana in September 2010.
On Saturday, March 26, 2011, Lisa presented a fascinating trunk show that explored the uniqueness of African fabrics as
they're incorporated into modern quilts, wall hangings and more. We discovered new ideas and creative insights suitable for quilters of all skill levels, using handcrafted batiks, cotton prints, bogolan, kuba raffia cloth, korhogo, kente weaves and unique embellishments.
A graduate of Fashion Institute of Technology (F.I.T.) in New York City with a B.S. in Marketing and an A.A.S. in Communications, Lisa has had experience in many areas of the textile industry. To learn more about Lisa Shepard Stewart please visit the Cultured Exressions website: www.culturedexpressions.com.
---
Sunday, March 27, 2011: Nancy Kern
My Appliqué Evolution
Nancy Kerns is an multi-award-winning appliqué expert and is graduate of the National Quilting Association's (NQA) Certified Quilt Teacher program. She teaches classes and workshops around the country, and was a Guest Artist in Residence at the Elly Sienkiewicz Appliqué Academy in 2005.
On Sunday, March 27, 2011 we we all captivated as Nancy presented a trunk show of more than 30 hand appliqué pieces that she has made.
Her presentation covered over 30 years of appliqué projects, shown in chronological order. While showing the pieces, Nancy talked a little about the technical methods used to make the pieces, thus giving an insight into how far we have progressed technically in these 30 years. Imagine, no rotary cutters or freezer paper templates in the early days!
The final quilts were 25 block Baltimore album style quilts, hung so the viewers could enjoy them fully.
For more information about Nancy Kerns visit her website: www.nancykerns.com
On Sunday afternoon, Nancy Kerns picked the winning ticket for our Subway Series raffle quilt. For more information about that quilt, visit the Raffle Quilt page.
---
Raffle Quilt Drawing
Celebrated and award-winning quilter Nancy Kerns drew the winning ticket for our Subway Series raffle quilt on Sunday, March 27, 2011 in the Great Hall at Fashion Institute of Technology (F.I.T.).
Sonia Rieber was the lucky winner of this fabulous quilt. Congratulations, Sonia!
For more information about the raffle quilt (with detailed pictures), please visit the Raffle Quilt page.
---
Sewing Machine Raffle
Sew Time Sewing – one of our generous show donors and vendors donated a Pfaff Expression 2.0 sewing machine to raffle off at the show! Tickets for a chance to win this amazing machine sold at the show for $1.00 per ticket. The drawing was held on Sunday, March 27 at 3:45 p.m. Rene Violian was the lucky winner of this fabulous machine. Congratulations to Rene!
This machine sells for $1,999 and has some amazing features: Pfaff's unique Integrated Dual Feed (IDT) system, 104 beautiful stitches, innovative German design … the listing of the great features of this machine simply goes on and on! You can see more about the machine on the Pfaff website.
For more information about Pfaff, see their website: www.pfaffusa.com, and for more information about Sew Time Sewing visit their website: www.sewtime.com.
A hearty THANK YOU to Sew Time Sewing for this generous donation.
---
Ongoing Show Events
Show Boutique
Many visitors took the opportunity to purchase hand made items by Empire Quilters members.
---
Show Vendors
Our vendors reported great business at their booths throughout the show, and attendees were pleased to be able to purchase so many fabulous items — and find some terrific bargains — at the show.
Visit our Show Vendors page for complete information about our participating vendors.
---
Show Souvenirs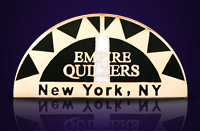 New guild pins and tote bags as well as guild T-shirts, pencils and lanyardwere available for purchase at the show. Each item carries the guild logo and/or guild name, and every piece is a terrific keepsake from our show and the Empire Quilters guild.
For detailed descriptions and pictures of the items for sale, please see our Collectibles page.
If you did not get your favorite souviner at the show, contact info@empirequilters.net and let us know what you are interest in purchasing. We'll let you know if we still have any items left.
---
Raffles and Prizes
Many companies and individuals generously donated valuable items for us to raffle to our show visitors. Show visitors were able to purchase tickets for chances to win these great gifts. Please visit the Acknowledgements page for a list of our many supporters and contributors.