Gallery - October 2005 - Natalie Garfinkle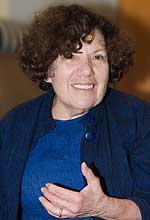 Natalie Garfinklewas born in the Bronx, and lived there until she married her husband Albert. They met while they were both attending New York University. Natalie learned sewing from both of her parents, and two aunts. Her Aunt Bella showed her how to make flowers with small pieces of fabric. As she got older, her father taught her to make her own clothing. Today Natalie is a professional costume designer, with many credits to her name. She loves working with choreographers.
Natalie is a painter who loves to paint with oils. And … there's more! This versatile artist also creates statues — small and large — in wood, marble and alabaster.
This year Natalie is co-leading a Crazy Quilt focus group for Empire Quilters, and we are delighted! It is sure to be a fun and informative group. Natalie believes that crazy quilts belong in the art quilt category. Take a look at a crazy quilt hung on a wall, and you'll most likely agree. (For more information about the crazy quilt focus group, see the Focus Groups page.)
Thank you, Natalie, for sharing your crazy work with the guild this month!
Click on any image to see a larger version.
| | | |
| --- | --- | --- |
| 4-Panel #1 | 4-Panel #2 | Ballet Quilt |
| Beyond the Border | Cats | Fanciful Forest |
| Miniature #1 | Miniature #2 | Panda Quilt |
| Panda Quilt Label | | |