Gallery - May 2010 - John Kubiniec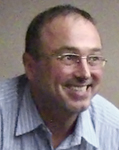 John Kubiniec has been an avid quilter for over 10 years, but wanted to learn to quilt for a much longer time. He bought a sewing machine "on speculation" — speculation that if he had a machine he might learn to sew and quilt. The machine stayed in the closet for several years. One day he stumbled across The City Quilter and signed up for a class — and the rest is history! John began buying up fabric and continues to buy more fabric and quilt (and buy more fabric).
Before coming to quilting John worked in ceramics specializing in 17th Century Slipware. He also has interests in cross stitch and embroidery. John tries to make the annual summer pilgrimage to Quilting by the Lake — this summer he will be taking an Indigo Dyeing class. John has many finished quilts and many UFO's — his very first quilt is in the UFO category. To fund his fabric addiction he makes a living as organist at St. James Roman Catholic Church in Springfield, New Jersey and coordinates the music for the Sunday evening liturgy for the Fordham University Lincoln Center Campus.
Below are some of the pieces that John showed at the April 2010 guild meeting. For more information about John, visit his blog: www.bigrigquilting.blogspot.com
Click on any image below for a larger picture.
| | | |
| --- | --- | --- |
| Courage | Cowboys and Stars | Ginny's Trip Around the World |
| Homage to the 60s | Little Amish Quilt | Mom's Mitered Quilt |
| Picnic | Picnic Companion | Random Autumn |
| Ray's Quilt | Sampler | Sister's Leftovers |
| Sushi | | |