Gallery - April 2007 - June Calender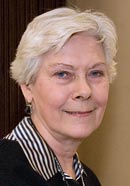 June Calender began quilting in the early 1970s. Her first quilt was a bear claw quilt in blue and white which used scraps on hand. She attended 4-5 Holstein-VanderHof quilt shows and began to think of quilts as more than scraps - actually as potential art. Through the extremely busy and life changing 1980s, June quilted sporadically. During this period, she moved to New York City to pursue play-wrighting. June never stopped quilting because the gratification of a made object with immediate utility was a wonderful change from the iffy-ness of getting a play done.
June watched the flowering of the art quilt movement, reading and going to shows, admiring but not aspiring to be among them. She is very drawn to "contemporary traditional" quilts, both for beds and as wall hanging, incorporating new techniques like paper piecing and "stack and whack." June is constantly delighted by the plethora of beautiful fabric available. Stash building borders on a compulsion
June has only taken one quilt class partly because she has too much Midwestern independence of spirit to want to follow anyone else's directions, and partly because she has had so much success at learning from books. She has written all her life due to the need to express herself. She has published since high school. June quilts from the same impulse as the one resulting in her giving away many of her quilts. June notes that as she grows older, she finds that "self-expression in color and pattern is more and more satisfying. It doesn't replace the written word but it generates the same excitement and passion."
At today's meeting, June shared some of her series work with us. Thanks, June — we look forward to seeing more of your work at future Show & Tell's.
Click on any image for more information, and a larger picture.
| | | |
| --- | --- | --- |
| Attic Window Birds | Attic Window Horses | Buttoned Down Shirting |
| Cori & Jason's Quilt | My Marvelous 65th Year | Quilt from Small Squares |
| Quilt from Small Squares #2 | Quilted Jacket | Scenes from Southern Mongolia |
| Small Piece | Star Series | Star Series |
| Star Series | Star Series | Star Series |
| Stars Series | Thanks Karen & Sharon (side one) | The Angry Drunkard |
| The Big Picture | The Steppes of Mongolia | |