Gallery - October 2008 - Judy Isaacs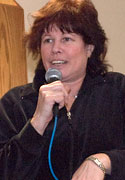 Judy Isaacs has always been a crafter — especially a knitter. But Carpal Tunnel Syndrome put an end to her knitting. Luckily, a cousin suggested that Judy try quilting in 1996. It was LOVE at first stitch! Judy began teaching in 1998 at Elder Craftsmen (both quilting and craft classes) and at the United Federation of Teachers. Judy began doing traditional quilts and has done all kinds of quilting. Her present love is art quilting. Judy resides in Queens with her husband, daughter, son-in-law, two grandchildren, two dogs, two cats, and one sugar glider.
Click on any image for more information, and a larger picture.
| | | |
| --- | --- | --- |
| Auction Stocking | Black and White and Color | Christmas Stars |
| Christmas Tree | Collage I | Collage II |
| Dotty Plaid Stars | First Art Quilt | Green Mystery Quilt |
| Hanukkah | Hanukkah Candles | Hanukkah Stars |
| Heart of My Heart | Maroon Grids | Music Time |
| One Patch by Hand | Pastel Pinwheels | Pattern and Finished Piece |
| Peek-a-Boo Blue-Eyed Bear | Peg in a Square Hole I | Peg in a Square Hole II |
| Photo Album | Pink Baby Quilt | Placemats |
| Plaid Stars | Purple Baby Quilt | Purple Stars |
| Rainy Day I | Rainy Day II | Scrap Squares |
| Sunbonnet Sue and Overall Sam | Triangle Fun | Tribute To Paul Klee |
| Variations I | | |