Gallery - June 2008 - Karen Griska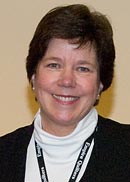 Karen Griska is a passionate and prolific quilt artist who made her first quilt at age 13, a charming one-patch. A self-taught quilter, she has now made well over 200 quilts, all original designs. Karen is inspired by antique quilts, particularly those pictured in the state quilt survey books, which she studiea vidly. Her favorites are dynamic interpretations of traditional quilts. She loves quilts with quirky, improvisational elements and huge numbers of piecesand different fabrics.
Creating the design is Karen's favorite part of the quilt making process. Karen does not usually sketch a plan in advance, but prefers to develop the design as she works. She loves to be astonished by the surprising twists and turns that occur during the process.
Karen's new book, Quilts from the Selvage Edge is published by the American Quilter's Society, (April 2008). For more on selvage quilts, visit Karen's web site, www.SelvageQuilts.com. You can also read more about Karen at www.RealWomenQuilt.com
Karen and her husband have two grown sons, and live in White Plains, New York.They are photography enthusiasts and love to travel and hike. We are so pleased to have Karen as a member of Empire Quilters!
Click on any image for more information, and a larger picture.
| | | |
| --- | --- | --- |
| Amish Improv | Amish Log Cabin | Auction Stocking |
| Beaded Log Cabin | Black Tie Affair | Doylestown Crazy Quilt |
| Fashion Label Quilt | Gems on Point | Glass Tumbling Blocks |
| Hidden Pineapple | Mercer Museum Crazy Quilt | Playing With Dolls |
| Selvage Apron | Selvage Basket | Selvage Vest |
| Shocking Subtle | | |