Gallery - January 2006 - Tom Cuff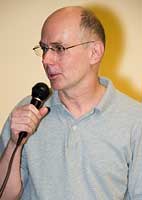 Tom Cuff began collecting quilts 25 years ago. As he started to upgrade his collection, he thought it would be a good idea to see how a quilt was constructed. Tom took a class with Pat Yaminand started making crib quilts for his friends' babies. Now he has a lifetime collection of fabric.
Tom came to New York 37 years ago to study theatre at Columbia University, where he received a M.F.A. He supported himself acting in television commercials and on stage, but when he was offered a job at America Hurrah, a leading quilt dealer on Madison Avenue, he left show business. He now manages Naga Antiques, a leading dealer of Japanese screens and antiques.
Tom has been a guest lecturer and/or curator for the Los Angeles County Museum of Art, the American Museum of Folk Art, the National Trust for Historic Preservation at Clivedon in Philadelphia, and the Sauder Craft Museum in his native Ohio.
Click on any image to see a larger version.
| | | |
| --- | --- | --- |
| Amish Quilt | Antique Quilt | Antique Quilt #1 |
| Center of Card Trick | Comings and Goings | Early to Bed |
| Mennonite Antique Squares | Piano Jazz | Rainbows and Stars |
| Robbing Peter to Pay Paul | | |