Gallery - June 2009 - Ann Foss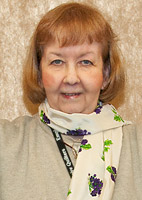 Ann Foss is a founding member of Empire Quilters, the one who foolishly volunteered, "We can meet at my place!" She came to quilting through classes offered by the Manhattan Chapter of the Embroiders' Guild which she had joined in 1978. Once Empire Quilters was formed in 1982 she started quilting in earnest. Annie likes doing quilts from magazines but with her own spin. Her favorite quilts are scrap quilts which she hand and machine stitches — she takes them everywhere to work on. Annie has started 160+ projects with all sorts of methods and themes including: Dear Jane, summer/ocean, Christmas, autumn leaves, apples, and cherries. Annie is a scrapaholic, scrap wonk, scrap goddess. For her quilter of the month presentation she concentrated on quilts of the scrap or charm variety.
› Read Ann's Complete Presentation (PDF) ‹
Click on any image for more information, and a larger picture.
| | | |
| --- | --- | --- |
| Arlene Kronenberg String Quilt | Around the World | Aunt Charlotte's Quilt |
| Bluebird of Happiness | Button Quilt | Carpenter's Daughter's Squares |
| Color Study (maroons and yellow) | Dance of the 7 Scarves | Dear Jane Signature Quilt |
| Decorated Blue Cap | Decorated Pink Cap | Entelehy |
| Japanese Woven Ribbons | Kansas Troubles | Liberty Baskets |
| One-patch work-in-progress | Pierre Deux Fabric Quilt | Red Silk Petticoat |
| The Crayon Box Tipped Over | Thimble | Tumbler |