Gallery - May 2006 - Debra Levin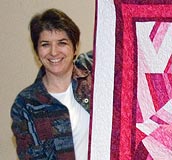 Debra Levin began quilting in 2002 while taking a break from working in the corporate world. She has since returned to work but the quilting has stuck and she now views quilting as her second job! Debra views herself as a contemporary art quilter who has fallen in love with traditional quilting — but as one of her favorite teachers Diane Rode Schneck says — It's All Good!
Click on any image for more information, and a larger picture.
| | | |
| --- | --- | --- |
| Africa Plus! | Albers at Sea | Albers at Sea |
| Animals | Butterfly Dreams | Butterfly Garden |
| Card Trick in Blues | Checkerboard Swirls | Collage |
| Cosmic Cowboys | Cyclone | Cyclone Sandwich |
| Flower Power | Fun With Nancy | Golden Gate |
| Gridlock | Hockney Dreams | Kaleidoscopes 3 |
| Mermaid Dreams | Mosaic Cube | Mosaic Sunset |
| My Own Personal Pacific Overture | Oceanic Sunrise | Once A Cabin |
| One Trip, 9 Stitches, 40 Shades of Green | Organza Beginning | Panda's Delight |
| Pearls of Wisdom, Teeth of Joy | Puppy Love | Purple Jane |
| Purple Swirl | Space Age | Stacey's Peppermint Stick Quilt |
| Swirl | Together Forever | Tri-Klei |
| Untitled #1 | Untitled #2 | Untitled #3 |
| Untitled #7 | Watching and Waiting | Watching and Waiting II |
| Speaking To the Universe | | |