Gallery - April 2009 - Naomi Shelnut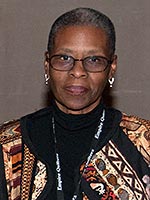 Naomi Shelnut began quilting close to 20 years ago when her husband was ill. Naomi would stay up late working on quilt blocks (mostly appliqué) and embroidery as well. She tried her hand at many textile related art forms while she shepherded her husband through chemo and radiation. Naomi joined Empire in the early 1990's shortly after her husband passed away. She shifted her focus to dollmaking about ten years ago and has been particularly interested in making dolls of African descent as well as stuffed animals. Naomi is a member of Quilters of Color Network NY — where she recently led an African Queen by Kooki Davis workshop, as well as a member of The City Quilter Doll Club, and the 3D Doll Club of Mount Vernon. Her daughter Stacey, Director of Education at Sacramento Museum of Art in California, loves everything her does — including Naomi's favorite doll: The Storyteller! And there's more! … Naomi gave her entire Quilter of the Month presentation on a stage that had no lights! — victim of a technical snafu. So in addition to being a fabulous and creative quilter and doll maker, Naomi is also a great sport! Her sparkling personality lit up the auditorium, but we would have liked to see her work in better light. Thank you, Naomi, for the presentation and the "show must go on!" attitude.
Click on any image for more information, and a larger picture.
| | | |
| --- | --- | --- |
| Caribbean Woman | Coat Hanger Doll | Coat Hanger Doll |
| Ellie the Elephant | Ethiopian Dolls | Ethiopian Queen |
| Ethiopian Queen | Ethiopian Queens (in progress) | Fancy Evening Bags |
| Fish | Golden Mermaid | Marathon Woman |
| Naomi with her sister | Newspaper Boy | Newspaper Boy 2 |
| Purple Ribbon Doll | Recycled Tie Wearable | Sarah the Pig |
| The Storyteller | | |