Gallery - January 2008 - Cathy Izzo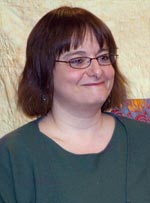 After seeing an incredible Matisse-like quilt in a Santa Fe art gallery that she could not afford to buy, Cathy Izzo started quilting in 1990 and became obsessively, compulsively hooked. Since she was living in Putnam County at the time, she joined the Northern Star Quilters Guild, went to all the meetings, took workshops and was, frankly, amazed at this underground hive of creative energy. Cathy felt that these women were imaginative, intelligent, organized, energetic and kind. They could run the world and it would be a much better place. Cathy says that "having met many more quilters from all over the world, I know my first impressions were right." She left her job at a video editing company in 1996, started The City Quilter in 1997, and has never looked back. We are so pleased that Cathy took time away from her very busy shop to share some of her work with us. Thanks, Cathy!
Click on any image for more information, and a larger picture.
| | | |
| --- | --- | --- |
| Baskets | Batik Crown of Thorns | Big Triangle Floral |
| Coming Together | Old Fashioned Log Cabin | Rattle Snake |
| School House Batik | Small quilt from floral leftovers | Venetian Tiles |