Exciting News!

We're building a new website! This page is currently under construction. We will resume frequent updates in early 2012. Stay tuned! …
Empire Charity Work at The City Quilter – April 21, 2012!
Posted: March 27, 2012 – On Saturday, April 21, from 5 PM to 9 PM, The City Quilter is again donating use of its classroom space for our charity work. So, if you havenít quite finished your quilts from Charity Quilt Day, this is a perfect opportunity to finish what is left in the company of other quilters. Itís always friendly, and snacks and drinks are available. The City Quilter is at 133 West 25th Street, New York, NY. For a Charity Quilt Day followup check our Service page.
New Workshop Location for May and June, 2012!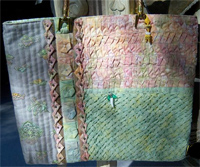 Posted: February 1, 2012 – As you may have heard, Empire Quilters lost out usual workshop space for May and June. BUT.., wonderful member Tina Barth has offered her loft for our classes.
May 13, Sunday, we have Rami Kim coming to show us her specialty - weaving and folding for textured effects. On June 10, Sunday, Linda Warren will be sharing her knowledge fn color and how it can create illusions in a quilt.
The time is is the same: 10 AM to 5 PM The place is new: Tina Barth's loft - 130 West 28 St, 5th Floor [ Map ]. Go to the Workshops page.
2012 Quilt Show of The Quilters' Guild of Brooklyn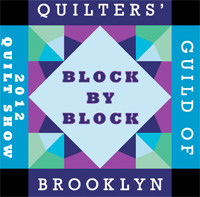 Posted: January 30, 2012 – The 2012 Quilt Show of The Quilters' Guild of Brooklyn is called Block By Block and will be held Saturday-Sunday, April 21-22, at the Block Institute, 376 Bay 44 Street, Brooklyn, NY 11214. Hours are 10-6 on Saturday, April 21, and 11-4 on Sunday, April 22, 2012.
Admission $8; $5 for seniors 62+, children under 12 are free. Raffle quilt, vendors, silent auction, demonstrations, and more. For more information, www.quiltbrooklyn.org.
New Guild Pin Available!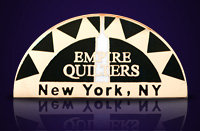 Posted: March 21, 2011 – Just arrived! — a new Empire Quilters guild pin! This elegant gold and black pin was available for purchase at our 2011 Urban Inspirations quilt show and can also be purchased at guild meetings.
The pin is 1¼" wide and is being sold for the bargain price of $5.00 (while supplies last). If you did not purchase your pin at our recent show, stop by the membership table at our next meeting, or contact info@empirequilters.net..
New Guild Tote Bag Available!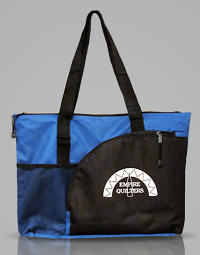 Posted: March 23, 2011 –This versatile tote bag was new for our 2011 Urban Inspirations Show! It is a roomy (but not too big!) 17Ĺ inches wide, 13Ĺ inches high, and 3 inches deep, with a zipper top. It is the perfect size for all of your supplies for a class. The bag is made of ballistic nylon, is extremely lightweight (9 oz), and has two outside pockets on the front: a zipper pocket, and a mesh pocket. And it has the eye-catching Empire Quilters logo.
The bags were available for purchase at the 2011 Urban Inspirations show, and can are also be purchased (while supplies last) at at guild meetings.
Show 'N' Tell UFO Challenge
Updated: September 27, 2011 – UFO's on the Loose! Our Show 'N' Tell UFO Challenge has been extended, making this the YEAR of the UFO! Now is the time to search through those bags stashed in the corner or hiding under the bed. Pull out that UFO, look at it with new eyes, finish it up and bring it to Show 'N' Tell. Can't wait to see the magic!
— Sandi Howell
Submit Your Suggestions for Guild Trips and Outings
Posted: May 24, 2011 – Do you have an idea for a guild trip or outing? Send those ideas to Trip Coordinator Mindy Wexler-Marks at mindywexlermarks@yahoo.com. Some possibilities include the Smithsonian in Washington, DC, Winterthur in Delaware, a Lancaster, Pennsylvania shopping trip, a behind the scenes look at the Metropolitan Opera costumes, fabric restoration studios for the Metropolitan Museum, a fabric printing studio, quilt storage facilities at the Folk Art Museum, etc. Suggestions would be most welcome!
Bags for Beads of Courage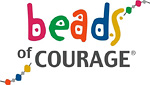 Posted: Feb 15, 2011 – We have been contacted by the Beads of Courage organization with the request that we make some special bags for some very special kids. Beads of Courage are presented to children with serious illnesses. The beads help children tell their own stories and help them track their personal journey through the frightening and confusing medical maze.
As a child begins their treatment journey, they are presented with a lanyard with their name and for every event in their treatment, they receive a bead to honor their journey. As the program grew, the kids were asked "where do you keep your beads?" and the answers ranged from shoe boxes to zip lock bags. But now quilters across the country have joined this exciting and caring program and have been providing handmade bags for keeping the special beads.
Several Beads of Courage programs are active in New York State and all the programs can use hand-made beads.
Here's how Empire Quilters can participate: Download the instructions, create as many bags for beads as you can, and turn them in to Denise Walsh-Horowitz of the guild's Service Committee. It's that easy!
Contact Denise Walsh-Horowitz via info@empirequilters.net if you have any questions, and please visit the Beads Of Courage website to read more about this valuable program for children.
Crazy Cat Lady Seeks Cage Blankets …

Posted: Nov 15, 2010 – These blankets will bring comfort to NYC's shelter animals. I am now coordinating Empire Quilters' Cage Comforter Project. We're making small quilts and blankets to line the cages at NYC animal shelters. When shelter pets (both cats and small dogs) have soft beds to sleep on, they're happier, less stressed, and healthier, which means they're adopted sooner. This helps to reduce the overcrowding at NYC's shelters. Some shelters even let the pets take their blankets with them to their new homes.
You can either sew, knit or crochet a cage comforter. The only requirements are that they be at least 12" x 18" (but they can be larger) and that they be machine washable. If you'd like instructions for sewing a comforter, or patterns for knit or crochet, please email me at bleujello2@aol.com (Editor Note: or see link below). I won't be at the December meeting, but email me and we can work something out. There is no time limit on this, I'll be doing it all year long.
— Diane Rode Schneck (aka the Crazy Cat Lady)
bleujello2@aol.com
Download instructions here: Cage Comforter Project (PDF)
Guild Donation Card Program
Posted: Aug 12, 2010 –Empire Quilters wants to be part of your life — Do you want to honor someone in a unique way, and support an organization that is meaningful to you and hopefully to them? Are you at a loss to find a gift for that special friend who doesn't need anything else, especially more fabric?
Your look is over! — Empire Quilters announces the Donation Card Program. For a small donation ($10 or more) in honor of a friend, or in celebration of a special event, a colorful handwritten card will be sent to the gift recipient or family. Complete the Donation Form and send it in with your donation to the guild address. The gift card will be sent within two weeks, and you will receive an email letting you know the card was sent. — It's that simple!
If you have any questions, please contact Renee Fields, 917-208-0123 or by email: info@empirequilters.net.
› Download Donation Form (PDF) ‹